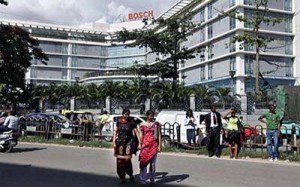 The Bosch Group is further expanding its business in India. This year, the supplier of technology and services intends to invest some 160 million euros in extending its locations in the country.Bosch announced the aforementioned plan at the official opening of the new Bosch research center in Bangalore a few days ago. According to the company, the investments will focus on extending existing manufacturing sites and research and development facilities.
"India will continue to play a key role for the Bosch Group, even if the next few years will present a few challenges given the recent drop in automotive sales in the country," said Peter Tyroller, the Bosch management board member responsible for Asia Pacific.
Bosch currently employs some 26,000 associates at 10 manufacturing sites and 7 research and development locations in India. Its four business sectors Automotive Technology, Industrial Technology, Consumer Goods, and Energy and Building Technology are all present in the country. In 2012, Bosch generated sales of 1.5 billion euros in India. Over the medium-to-long term, the company expects stable growth in the region.
In 2012, Bosch opened a new, larger manufacturing facility for packaging machinery in Verna and a manufacturing facility for heating systems in Kumbalgodu. In 2013, its subsidiary Bosch Rexroth opened a new plant in Ahmedabad. And, as India's largest automotive supplier, Bosch has expanded its manufacturing facility for automotive parts in Chennai. Chennai is also the site of a new Bosch und Siemens Hausgeräte plant, currently under construction.