Königsbrunn/Germany, April 2014 – Ettlinger Kunststoffmaschinen GmbH of Königsbrunn, not far from the southern German city of Augsburg, can meanwhile look back on a thirty-year success story which began in December 1983. The company was established just over three decades ago by Roderich Ettlinger, a trained mechanical engineer. Working as a one-man firm Ettlinger's first project was to design two custom injection molding machines for a Swedish plastics converter.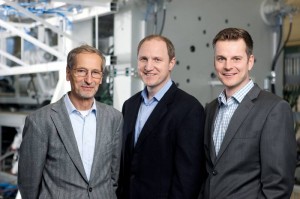 In doing so he laid the foundation for the present "srm" series with clamping forces ranging from 2000 to 30,000 kN. These injection molding machines are ideal for the manufacture of large-part moldings such as pallets, over-size fittings and manhole systems weighing up to 100 kg. Since the first machines were designed Ettlinger was able to provide high performance with extremely low energy consumption. In 2004 the portfolio was extended to include the ERF® series of high performance melt filters, which are specially tailored for reliable processing of heavily contaminated recycled plastics.
In 2010, after 27 years as a successful entrepreneur, the company founder transferred his shares to Volker Neuber and his son Thorsten Ettlinger, who have been responsible for all of Ettlinger's commercial and technical activities ever since. Throughout its history Ettlinger has built up a strong international presence and this will continue in the future. The Managing Directors are taking advantage of the anniversary year to invest again in the Königsbrunn site. "We're spending an estimated 1.5 million euros on extending our production capacity here. The new building is scheduled to open in the fall, and we're planning an official customer event to celebrate our thirty years in existence", Neuber reports.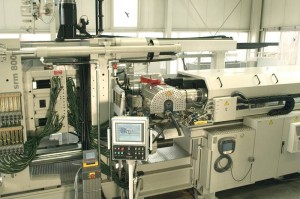 Ettlinger's srm injection molding machines are based on a seamless modular system. "That way, we can offer affordable solutions and flexible machine concepts for a wide range of applications, usually as complete turnkey solutions from the material feed to the fully automated removal of the molded parts. And with our continuous, patented ERF® high speed filters for recycling plastic waste we eliminate even the most problematic types of contamination from the melt, such as a high content of paper, aluminum, wood or silicones", explains Thorsten Ettlinger when asked to sum up the company's product lines. The latest Ettlinger innovation is the new "ECO" melt filter unveiled at the K 2013 trade fair. Based on the proven ERF® technology, this filter is particularly suitable for film and sheet production lines as well as for PET recycling.
Today, thirty years after it first came into being, the one-man firm has been transformed into a global enterprise with local partners in America, Asia, Russia, and Turkey. In 2013 Ettlinger also opened a separate North American subsidiary in Wheaton, IL near Chicago. "Our customers in the US and Canada profit tremendously from Ettlinger North America LP. We've experienced a further increase in demand as a result, which is why we're already making plans to move into bigger premises there too." Volker Neuber then outlines what's next in the pipeline in Ettlinger's systematic pursuit of expansion: "In the Asian economic area, where our main focus has traditionally been on Japan, we're now explicitly targeting other markets, notably China."
Ettlinger Kunststoffmaschinen GmbH was founded in 1983 and is today a global player. The German company has its headquarters in Königsbrunn, not far from Augsburg. Its core competency is the development and manufacture of injection molding machines and high performance melt filters. Ettlinger injection molding machines are optimized for the production of polymer moldings up to 100 kilograms in weight such as plastic pallets, fittings, or manholes. An ingenious modular system allows affordable solutions and machine concepts to be offered for a wide range of applications. On the melt filtration side Ettlinger makes high performance melt filters for continuous filtration of heavily contaminated feedstock. Contaminants like paper, aluminum, wood, silicones, or high-melting polymer composites can be removed from all standard polymer materials.
More information:
Karsten Bräunig, Manager Sales
Ettlinger Kunststoffmaschinen GmbH
Messerschmittring 49, D-86343 Königsbrunn
Phone: +49 8231 34908 -12, Fax: -28,
e-mail: [email protected]r.com
www.ettlinger.com
Read more..http://www.konsens.de