Mumbai, 17th June 2013 – Smart Machineries and Moulds Pvt. Ltd announced the grand opening of its new plastics extrusion Blow moulding manufacturing facility in Western India. The new facility in Vasai, Thane district the outskirts of Mumbai, India will manufacture all size of extrusion blow moulding machine which includes single and double station machines.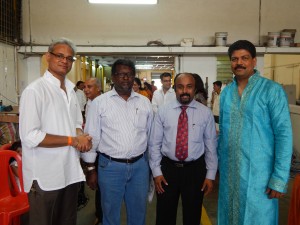 Initially, the annual capacity is projected to be approximately 24 to 36 machines now Smart has already planned to double their sales measure in the current year. The new facility is strategically located near Smart customer's manufacturing facilities in Western India, and near the coast line of the Arabian Sea, which will facilitate the shipment of machines for faster delivery.
"We are very pleased to announce the opening of our new manufacturing facility in Mumbai, India," said Mr. Shreeram Rane, Managing Director for Smart Machineries and Moulds Pvt. Ltd. "This plant will be dedicated to providing innovative solutions to meet the needs of Blow Moulding processors in India." "By opening this new facility near Mumbai, we are strengthening our position to serve our growing customer base in this attractive market. Many international and domestic customers along with the media people attended the opening ceremony followed by the worship and Indian Lunch. Mr. Rane added we are focusing on domestic and international market as the need in the market is very high to any other industry.
Mr. Hemendra Pradhan, Technical Director of Smart said to the media that, "This new facility is another step in our progress toward becoming the number one Indian manufacturer in the Blow Moulding Machine Industry." He also added we are sure that we will be one of the leading manufactures with service support for extrusion blow moulding machines; we are also planning to launch some more additional features to our machines for the benefit of customers. We have our own in-house designing team they will do the new designs for all kind of machines.
These facilities will now focus exclusively on serving the growing demand for blow moulding products applications in their respective markets.
About Smart Machinery
Smart Machineries and Moulds Pvt. Ltd. (SMMPL) is a team of young dynamic professionals with an exposure to Plastic Industry since 1991. Due to the increased demand from overseas customers, we have started our export firm since 2004. Looking into the potential growth in Atomization Plastic Industry SMMPL tied up with European Suppliers like Plastic Systems & Green Box for Dryers, Dehumidifiers, and Chillers in 2007. In the course of further expansion, SMMPL has bought over Extrusion Blow Molding Machine manufacturer "MAZDA Mech Industries". Now SMMPL has its own Manufacturing Unit near Mumbai along with the Trading office in Mumbai.
Since inception, SMMPL has been striving to offer the best technology to the customers worldwide at a very competitive price – that is Value for Money and to become the most reliable partner for the customers worldwide with smart product line.
For more details: www.smartmmpl.com