Growing market potential and increasing demand prompt Fill Machine Engineering to bundle expertise in the new "Profile Technology" competence center.
The Upper Austrian machine-building experts from Fill have established a new business area – "profile technology". Expertise and experience have now been bundled into the new Profile Technology Competence Center. Fill has already built systems and special solutions for this sector. Continually increasing demand has prompted Fill Machine Engineering to form a competent and powerful team under the leadership of Erwin Altendorfer, which will now press ahead with targeted developments in this field.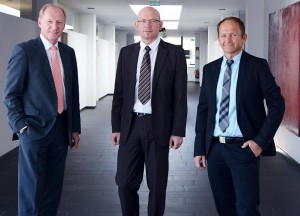 Gurten, 17 April 2014 – In recent years, Fill has developed into a sought-after specialist in machine and plant engineering for the machining and processing of non-visible structural parts (profile technology) in automobiles. These profiles are manufactured predominantly from aluminum. Due to the constantly increasing demand and growing market potential, experience and expertise have now been bundled into the new Profile Technology Competence Center. "The order situation in this area is developing very positively. Our clients hail from the international automotive industry and its suppliers. We see great untapped potential here and have therefore decided for strategic reasons to advance profile technology with a dedicated competence center," says Andreas Fill, proprietor and CEO of Fill Machine Engineering.
Exploiting synergies
Fill has many decades of international success in machine and plant engineering. A major component of this success is the longstanding practice of bundling various fields of expertise into the dedicated Metal, Plastics, Wood, and Service competence centers. Highly efficient and innovative teams advance developments in their respective fields. One important aspect here is practical exploitation of the resulting synergies. Implementation of the new Profile Technology Competence Center will broaden the company's service spectrum, expand the product range, and strengthen the company in general.
Exacting requirements demand high quality
The machines and systems developed by Fill for profile technology define new standards in terms of quality and economy. Even the most complex operations are completed reliably and stably with the highest levels of efficiency. Fill supports all production processes. From simulation to production and extending to quality control, everything is optimally coordinated.
Corporate data
Fill is a leading international machine and plant manufacturing company for diverse branches of industry. The family-owned business excels in the use of the latest technologies in management, communication, and production. Business operations encompass the fields of metal, plastics and wood for the automotive, aircraft, wind energy, sport and building industries. The company is the global market leader in ski and snowboard production machines and aluminum core removal technology. Andreas Fill and Wolfgang Rathner are joint CEOs of the company founded in 1966 that is still completely family-owned. The company became a public limited company (GmbH) in 1987, was certified in accordance with ISO 9001 in 1997, and now has more than 590 employees. In 2013, the company recorded sales of just under 115 million euros.
Further information can be found at: www.fill.co.at