In Vietnam, PP and PE markets firmed up this week as suppliers lifted their prices pointing to their limited stocks as per the pricing service of ChemOrbis. Another factor that contributed to the trend was the firming in China, where overall stock levels for those polymers gradually eased after standing at over 1 million tons right after the Chinese New Year holiday. Players in Vietnam opine that higher levels have yet to meet with much interest while they feel that the market may at least hold stable amidst shutdowns at a couple of regional producers over the short term.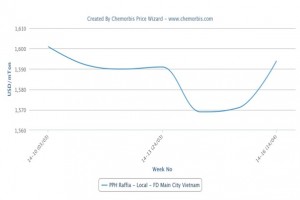 The locally-held PP market has moved up back to the levels reported in early March. A trader lifted his local PP offer from last week after the market returned from the Hung Kings' Commemoration Day. "The market response is not so good so far while we had to give VND300,000/ton ($14/ton) discounts. Sellers commented that the market is following the firming trend in China while they keep informing the market about their limited supply," he highlighted. Import PP prices also firmed up slightly this week, he mentioned, as he paid an extra $10/ton for Korean PP compared to last week.
A second trader said that the market sentiment in Southeast Asia is still not encouraging while overall demand from China is better but still not sufficient owing to lower consumption rates at converters. He expects the activity to remain muted in the near term amidst the New Year holiday in Thailand whereas he expects a revival after Chinaplas Fair in China next week on tightness. "A Southeast Asian producer will have a maintenance shutdown for PP in May. So far, Iran doesn't have large quantities arriving to China. A Saudi Arabian source also has supply concerns for PPBC," he stated. He expects to see a stable trend in the near term since producers are free from sales pressure for now.
A woven bag converter reported receiving VND 500,000/ton ($24/ton) higher local PP prices compared to last week. "We sent inquiries to a few regular suppliers while they all told us that they have limited stocks. In fact, we are not in a rush to buy but we need to search for prices for our next purchase in May. Meanwhile, end product demand is regular," he added.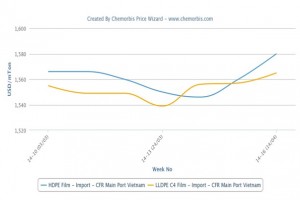 In the PE market, supply is reported to be limited particularly for LLDPE. A trader noted, "We lifted our LLDPE offer by VND 300,000-500,000/ton ($14-24/ton) on the week due to better demand and limited inventories in the market." Another trader reported that they don't have any LLDPE on hand. "Overall supply is tight in Southeast Asia while China also has maintenance shutdowns. This may support prices to remain at least stable in the near term as disappointing demand should prevent any major gains. We plan to wait to hear more May shipment prices," he said.
A different trader commented, "Demand seems to be picking up for LLDPE in the local market. We managed to sell a good quantity earlier this week and now we have lifted our price by VND200,000-300,000/ton ($9-14/ton). We are currently waiting for customers' response." He also added that his supplier plans to increase their HDPE offer by VND300,000/ton ($14/ton) as well.
The import PE market also moved up this week in Vietnam as two Middle Eastern producers revealed their new May prices with increases. A producer announced their new LLDPE offers with $60-70/ton hikes in line with reports about their limited availability. Another producer started to seek increases of $60/ton for LLDPE and $40/ton for HDPE with respect to the last April done deals. A shopping bag converter received $20/ton increases for LLDPE from a Middle Eastern producer from his done deals last week. "We are not interested in this cargo as we already stocked up last week," he clarified.
According to ChemOrbis, although most players feel that lack of comfortable availability may keep PP and PE markets firm in the country, some players opined, "Supply may ease next month as many players have purchased cargoes at the same time which will arrive in late May. This could create a downwards pressure on the market unless demand really improves."