China's PET market continued to witness gradual decreases over the past week as suppliers issued further reductions on both their local and export prices in an attempt to speed up their sales as per the pricing service of ChemOrbis. The PET market has been steadily losing ground since the beginning of June, weighed down by softer upstream costs.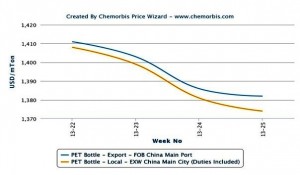 A domestic producer reduced their local PET prices by CNY100/ton ($16/ton) towards the end of last week. A source from the producer said, "We managed to conclude some deals at these new levels and we hope to stimulate our sales before some new capacities come online." The producer also lowered their export prices by $20/ton, commenting, "Buying interest for exports has slowed down these days."
Another producer decreased their PET prices by CNY100/ton ($16/ton) in the local market and by $10/ton in the export market at the end of last week. "We elected to lower our prices in an attempt to generate more sales before the end of the high season," a producer source reported.
A source from a different producer reported that they have reduced their export prices by $10/ton in line with the other suppliers' pricing strategy. The source added, "Demand is not buoyant these days and only lower prices attract buying interest. Prices may remain soft in the upcoming days." Another producer made similar comments about the demand situation, saying, "Our plants are still offline and we only managed to conclude deals for small amounts. Prices are unlikely to move higher given the approaching end of the high season."
According to ChemOrbis, a distributor pointed to lower energy and futures prices as the main reason behind softer prices. He commented, "Most buyers are limiting their purchases to small amounts as they expect to see even lower prices in the upcoming days. We are also taking a wait-and-see attitude before building some stocks. When considering the gloomy economic outlook, prices may decline further in the upcoming days." At the beginning of this week, another distributor reported that buyers retreated from the market due to lower futures prices and added that he is willing to concede to some reductions in order to stimulate buying interest.