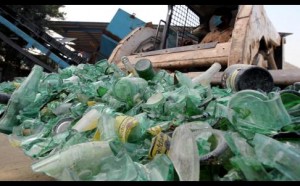 ELKRIDGE: Sims Recycling Solutions, the global leader in electronics reuse and recycling, earned the Maryland WorksEmployer of the Year award. This award acknowledges a local employer that has demonstrated a significant commitment to hiring, retaining and advancing individuals with disabilities.
Sims Recycling Solutions (Sims) is the only recipient of this award for 2012. Employer of the Year is one of six award categories that Maryland Works presents on an annual basis.The fifth annual employment awards luncheon was held on Wednesday, December 12, at the Marriott BWI Airport Hotel at 1743 West Nursery Road in Linthicum, Md. Other awards handed out by the organization included the Employee of the Year, Workforce Professional of the Year, Business Owner of the Year, Provider of the Year and Transition Teacher of the Year.
"We are honored to receive the Maryland Works Employer of the Year award, Sims Recycling Solutions prides itself on providing a zero harm workplace and giving employees the tools to succeed in work and in life. Winning this award is a testament to that ongoing effort," stated Julie Keough, Business Process Improvement Manager, Sims Recycling Solutions. "By establishing relationships with community nonprofits such as Humanim, Sims has been able to create a diverse workforce and provide opportunities to individuals who might not otherwise have had them."
Fifteen percent of Sims Recycling Solutions' workforce in Baltimore is disabled and hold either full-time or part-time jobs in the facility or front office. The company provides diversity training to help educate and train employees and staff about how to properly interact with individuals with disabilities. This training is a part of a program the local site created to help incorporate individuals with disabilities into the facility's workforce.
The fully certified electronics recycling facility in Elkridge provides end-of-life recycling and asset management services for local businesses and consumers. The site consists of 160,000-square-feet of hand-dismantling, baling, asset management services and on-site document and digital data destruction. Further processing occurs at other Sims Recycling Solutions locations.