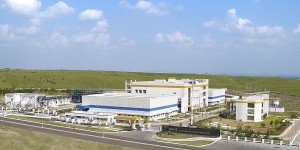 As global life sciences & materials sciences company DSM continues to support its customers' drive to achieve increasingly ambitious sustainability targets, the company continues to set important benchmarks in lowering its own environmental footprint.
In 2012, DSM has dramatically reduced the level of water consumption at its engineering plastics compounding site in Pune, India. The water footprint of the operation, where the company produces compounds of thermoplastic polyesters and polyamides, has been slashed by two-thirds, thanks to increased process water recycling and strict monitoring of potential water leakages.
DSM's Pune site, which has been operating since 1998, already has a strong track-record of highly efficient water management. It was one of the first DSM sites to completely eliminate waste water from its production process. Since 2010, all water used on the site has been treated, checked and reused for gardening purposes. These latest improvements in Pune are a reflection of DSM's ongoing efforts to reduce environmental footprints, both within its own operations and along its value chains.
Sustainable solutions as a key driver
DSM regards the search for sustainable solutions as a key driver for success and profitability. In addition to reducing the environmental footprint of its operations by reducing energy consumption and Greenhouse Gas emissions, it is also driving sustainability via the plastics it produces and in the applications they are used for.
Fredric Petit, Sustainability Director at DSM in engineering plastics, says: "In order to deliver the most sustainable customer solutions for Engineering Plastics, DSM focuses its Bright Science on a number of key aspects of products and product development, such as EcoPaXX® and Arnitel® Eco, innovative developments in the use of feedstocks derived from renewable resources and more eco-efficient application solutions. DSM offers alternatives for materials with hazardous concerns (for example its portfolio of halogen- free flame retardant solutions) and searches for materials with recycle content that can be recycled end-of-life."
DSM – Bright Science. Brighter Living.™
Royal DSM is a global science-based company active in health, nutrition and materials. By connecting its unique competences in Life Sciences and Materials Sciences DSM is driving economic prosperity, environmental progress and social advances to create sustainable value for all stakeholders. DSM delivers innovative solutions that nourish, protect and improve performance in global markets such as food and dietary supplements, personal care, feed, pharmaceuticals, medical devices, automotive, paints, electrical and electronics, life protection, alternative energy and bio-based materials. DSM's 22,000 employees deliver annual net sales of around €9 billion. The company is listed on NYSE Euronext.
More information can be found at www.dsm.com.