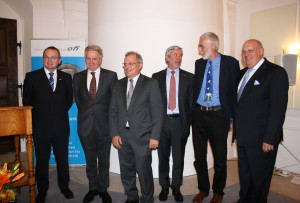 On Thursday, 8 November 2012, Dr. Werner Wittmann was presented with the H.F. Mark medal of the OFI Institute in the main auditorium of the Austrian National Library to honor his merits on behalf of the Austrian plastics industry.
The H.F. Mark medal is awarded annually to distinguished personalities from scientific research into polymers and from the plastics industry for outstanding achievements. This year's medals were granted to Dr. Werner Wittmann, Managing Director and co-owner of the WITTMANN group, and Prof. Dr. Otto Glatter, Karl Franzens University, Graz.
Dr. Werner Wittmann started his career in the plastics industry following a degree course in economics and business administration at the Viennese University of Economics and Business, gathering practical experience as a product designer at Krause & Co. and as sales manager at Mabeg/Hörbiger, before becoming Director of Sales at Engel in Schwertberg. In1976, Dr. Werner Wittmann established his own company to produce a flow controller he had developed himself.
This was followed by the production of temperature controllers a year later. In 1985, robots were added to the manufacturing program. By opening WITTMANN Germany in 1983 and WITTMANN USA in 1986, Dr. Wittmann laid the foundation for today's globally active WITTMANN group.
In his laudatory speech, Ing. Harald Bleier, ecoplus Cluster Manager of Kunststoff-Cluster in Lower Austria and former Battenfeld associate, honored the achievements of Dr. Werner Wittmann and specially commended his commitment to WITTMANN BATTENFELD. Dr. Werner Wittmann took over Battenfeld Kunststoffmaschinen GmbH, which was then in insolvency, in 2008 and developed it into a successful player in the international plastics industry.
The WITTMANN group presently employs a total of 1,800 associates and has a leading position in the international plastics industry with 7 production plants, more than 30 sales subsidiaries and almost as many agencies worldwide.