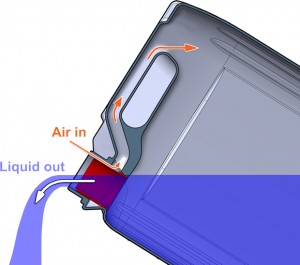 RPC's Ecostacker has been confirmed as the winner of the Horners Bottlemaker Award 2012. RPC Design, RPC Containers UKSC and Nexus Packaging collaborated in the design and launch of a new generation of user-friendly large plastic containers that incorporate a totally new and unique anti-glug feature. The Ecostacker plastic drum range was developed to overcome key ecological, transport, handling and pouring issues that have previously been associated with large containers in order to deliver improved performance in terms of safety, strength, stability and value.
Of major significance is the Safepour® anti-glug system, developed by the RPC Design Department. Glugging during pouring has always been a problem with conventional necked containers as it can result in spillages which, as well as being extremely hazardous, create mess which then has to be cleaned at the cost of labour and lost production. This problem is also potentially dangerous when handling hazardous chemicals.
Safepour® counters the effects of glugging by equalising the pressure inside and outside the container via a specially-developed insert to give a consistent, fast and safe flow of product for both viscous and non-viscous liquids. Equally important, the new system has achieved UN approval for the transport of hazardous goods.
Peter Davis, Chairman of the Horners Award Committee said, "We felt that the Ecotainer Stacking Jerrican with its anti glug feature demonstrated exemplary innovation and comprehensive product design. The panel was unanimous in concluding that the benefits of the product, especially within the agrochemicals industry will help to promote the contribution that good design can make."
An RPC Containers UKSC spokesman said, "We are delighted to have been chosen as the winner of the 2012 Horner's Bottlemakers Award, and for our innovation to be recognised in this prestigious way." Another important design feature is the innovative head/foot interlocking system which maximises performance during stacking and transport. The efficient stacking system reduces transport costs by over 10% compared with existing 20 litre drums and 15% for 25 litre sizes. The HDPE containers are 100% recyclable. The Ecostacker range is suitable for food contact as well as UN-approved for the transportation of hazardous materials.