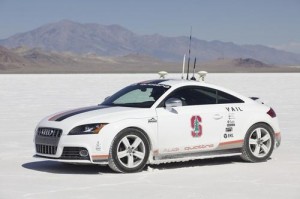 At the Consumer Electronics Show (CES) in Las Vegas this week, the two automakers are showing off vehicles arrayed with sensors and automated control systems that make it possible for cars to observe their own surroundings. Audi is even showcasing a "piloted driving system" that helps drivers steer a car in congested traffic speeds up to 37mp/h (60km/h). The technology also enables vehicles to accelerate, brake, and park by themselves.
"Our goal is a system that constantly perceives, processes, and responds to its surroundings, that scans the movement of objects around it, identifies a green light from a red light, and measures the trajectory, roll, pitch, and yaw of the vehicle as it steers, accelerates, and brakes along the most efficient route to its programmed destination," said Mark Templin, Lexus Group vice president and general manager, in a prepared statement at a CES press conference on Monday.
Although most automakers are still hesitant to talk about it, the goal also involves the eventual development of driverless vehicles. This week, Audi said that the state of Nevada issued the company a license to allow testing of autonomous vehicles on its public roads. Audi, along with Google Inc., are the only two companies to receive such a license. Audi's licensing follows on the heels of a September announcement by the State of California that it, too, is allowing the testing of self-driving cars on its roads.
At CES, Toyota is demonstrating a multitude of technologies that could one day form the foundation for such autonomous driving. The giant automaker is showing off a Lexus vehicle equipped with 360-degree LIDAR (light detection and ranging) laser, which can detect objects as far away as 70 meters, on its roof. It also employs three high-definition color cameras that can detect objects 150 meters away, radars on its front bumper and sides, a distance measurement indicator, inertial measurement units on the roof, and GPS antennae.
The participation of Toyota sends a signal that automakers are taking autonomous vehicles seriously, experts say. "Having someone like Toyota, with that kind of industry pull, is a very important step," Dave Sullivan, manager of product analysis for AutoPacific Inc., told Design News. "Google is one thing. But having a big automaker exploring this is another." Sullivan added that he has seen and photographed Toyota's autonomous vehicles being tested near its research center in Ann Arbor, Mich.
Up to now, the most notable driverless cars have come from outside the auto industry's original equipment market. In the Defense Department's 2005 DARPA Grand Challenge, five cars developed by research teams independently traversed a 140-mile course, including mountain roads and hairpin turns. In the 2007 Urban Challenge, six more vehicles finished successfully. Google's autonomous cars are also said to have logged more than a quarter-million driverless miles.
Still, technical challenges remain if driverless cars are ever to become products. Designers of driverless vehicles have previously told Design News that GPS systems don't update quickly enough, and must be augmented by supporting technologies, such as inertial sensors. Driverless cars are also still "learning" to determine what's in front of them, and whether it's time to stop or go.
Sullivan said that the challenges will have to be addressed over many years. "The big thing will be getting consumers to trust this technology," he told us. "A lot of them still have issues with their phones and computers, so how can we expect them to trust an autonomous car?"