ResTech Plastic Molding LLC (RPM) announced the merger of its two Connecticut-based divisions: Northeast Mold & Plastics of Glastonbury, CT, acquired earlier this year, and Tech Atlantic of Berlin, CT, acquired in April 2013. Acquisitions and the merger of the Connecticut facilities reflect RPM's manufacturing strategy to build an industry-leading manufacturing platform. This will be supported by a company-wide $2 million investment in industrial automation through 2016 to improve employee, equipment, plant operations and environmental capabilities and safety, according to company information.
ResTech CEO George E. Danis explained the company's objectives: "The merger is expected to accomplish three objectives: strengthen our design, engineering and technology synergies; advance the performance of material science to deliver a wider range of plastic material solutions for a multitude of product applications; and increase production space and gain capacity." ResTech's Hudson facility operates 36 injection molding machines including six electric presses in a class 8 cleanroom.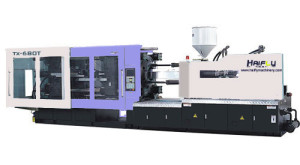 At the time of its purchase by ResTech, Tech Atlantic had 22 injection molding machines ranging from 22-500 tons. Northeast Mold & Plastics has been operational since 1983, providing complete mold design, construction, injection molding and value-added services to customers in the telecommunications, electronics, instrumentation, printing, automotive, water purification and medical components.
Combining divisions at the Berlin location significantly expands not only the physical building size of the 68,000 sq-ft but also assembly service, automation and additional manufacturing capabilities. The facility is ISO 9001-2008 certified and UL listed. Production capacity expands to 33 presses ranging from 24 to 500 tons including four 2-shot, 2-color, 2-component machines ranging from 88-220 tons. The company will operate under the Northeast Mold & Plastics name.
Helping customers reshore manufacturing back to the U.S. is one of ResTech's strategic goals. Using the TCO (Total Cost of Ownership) from the Reshoring Initiative's website (www.reshorenow.org), ResTech has assisted three customers bring projects back to the U.S. over the past year. In 2010, the company had a huge contract come back. "There are many cost challenges involved with reshoring," Danis told PlasticsToday. "Many don't equate the time and manpower it takes in managing offshore projects. When we talk to our OEM customers and we ask them about the time they spend in managing offshore projects, many can't provide that information."
A major focus for ResTech's reshoring efforts with customers is assisting OEMs with lower-cost solutions specifically in design, both for new products and redesign for legacy products already on the market. "We sell our engineering, from the start of a new design or the redesign of a legacy product," Danis said. "We look for design innovations and different cost approaches, from design to production to packaging and supply. We've developed many innovations through our strong in engineering expertise, which has resulted in 15% growth each year. We continue to support the reshoring effort in assisting customers with lower cost solutions, bringing products back to the U.S. and having a long-term supplier in the USA. We're committed to a 'Made in America' manufacturing strategy."
The company expects its vertical market focus to expand plastic injection molding across multiple industries to help drive the future of today's shift from metals to more durable plastics, opening the door to safer, more reliable and efficient products that meet environmental sustainability. "Searching for an injection molder is virtually endless, but with globalization and outsourcing, the current climate is even more challenging," Danis said. "OEMs can now find one manufacturing platform with ResTech and Northeast Mold & Plastics, that fits their organic growth, multi-industry criteria and long-term goals."