Troisdorf, April 2014. Within a period of six months, Reifenhäuser Cast Sheet Coating has sold ten sheet extrusion lines provided with the new MIREX-MT-V polishing stack. Mainly companies operating high-performance lines for the production of PET film are currently investing in this new mechatronic roll set-on system that is based on up-to-date technology of high-precision machine tools.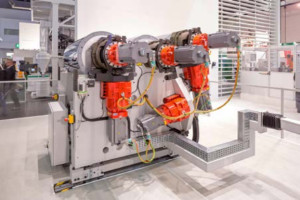 Reasons to buy the new polishing stack are the extremely short  times for changing from one film thickness to another, and thin  films of thicknesses impossible to be reached so far. Depending  on configuration and product parameters, 120µm and less can be achieved in the production of PET film – with excellent tolerances for quality products polished on both sides. Up to now, minimum film thicknesses of 150µm could be realised in the industry only by using special equipment. Thanks to the reduction in thickness, producers of blister and display packaging can benefit from essential cost advantages.
Following the outstanding success in the high-performance  segment, Reifenhäuser Cast Sheet Coating is now going to provide  further series of the polishing stack with a mechatronic roll set-on  device. The next series of the patent pending system will be  completed still in the first half of 2014. Then, also producers of PS  and PP films will be able to benefit from a rapid, reproducible
adjustment of the roll nip.
The innovative MIREX-MT-V polishing stack technology was initially presented to the public at K 2013. Thanks to the polishing stack,producers can reduce their product changing times and rejects by 80 percent, and adjust the polishing nip automatically and more precisely by a factor of ten during running production. All parameters are 100 percent reproducible.
About Reifenhäuser Cast Sheet Coating GmbH & Co. KG
Reifenhäuser Cast Sheet Coating specializes in the development and manufacture of complete cast film lines, sheet lines and coating lines as  well as dies and winders for the production of films for packaging, surface protection, office supplies, hygiene articles and industrial  applications. Over a period of 40 years,the company has developed specific competencies in the manufacture of technologies for precisely adjustable film thicknesses and distribution of the individual layers at high speed, for precise polishing of sheets,and the processing of a broad range of raw materials.
The company excels with an especially high in-house manufacturing depth. In addition to all components for casting sections, polishing stacks and winders, the portfolio of the company also includes dies, feedblocks, extruders and the corresponding screws and barrels completely manufactured in-house. The Troisdorf-based Business  Unit is headed by Dr. Jochen Hennes.
Internet: www.reifenhauser.com