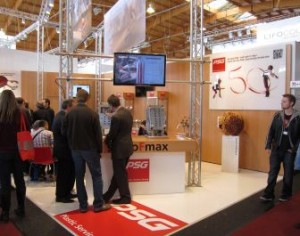 PSG Plastic Service GmbH presented two new developments for the hot runner and controller systems, sumoFmax and VCON, at Fakuma 2012.
sumoFmax is a new, patent-registered, lever operated lifting plate. By a slide role guidance mechanism, with integrated cranked lever, the force is increased exponentially in the closing stroke. sumoFmax achieves multiplied force, saving energy and reducing installation space.
Meanwhile, VCON is PSG's solution for sequential control of the valve pin. VCON operates completely self-sufficiently and is suitable for all molding machines, regardless of age or brand. It can be matched with the hot runner controller profiTEMP, offering all around scope of operation together.
Source : http://www.adsalecprj.com/Publicity/MarketNews/lang-eng/article-128263/Article.aspx