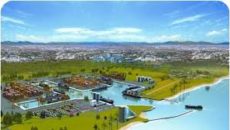 Work on the much-awaited rubber industry master plan has commenced, with Industry and Commerce Ministry implementing a number of the projects outlined:
"Twelve of twenty-five projects in the government's 'Rubber Master Plan' are being implemented currently," Minister of Industry and Commerce Rishad Bathiudeen said.He was speaking at the inauguration of the 3rd Lanka Plastic and Rubber Expo at the BMICH yesterday.
"We started with information. There is a lack of information on the Sri Lankan rubber industry, and this is a key issue to our development efforts," the Minister said."Another is to address the shortage of rubber manufacturing skills in the industry," he said.
He said the Industry and Commerce Ministry, together with the Sri Lanka Plastic and Rubber Research Institute had contacted the Cochin University of Science and Technology in Kerala – well known for plastic and rubber technologies – who would train 25 rubber industry technicians in Kerala next month, on the latest rubber technologies."Another initiative is to address rubber product manufacturing skills," he said.
He said the ministry would also invest Rs 9.4 million to purchase a 'rubber injection molding machine' for the Industrial Development Board.
"As for plastics," the Minister said, "It is becoming an increasingly used day-to-day item in Sri Lankan households, being a durable and a low-cost substitute to expensive metal and wood."
"We believe that Sri Lanka's per capita plastic usage is around 6 kilogrammes. There is an estimated 20 to 25% estimated annual plastic usage growth in Sri Lanka."
"With the decline of oil prices, plastic products also are becoming cheaper to manufacture and will be an attractive low-cost items in the consumer market."
"Therefore I believe there are good times ahead for the plastic industry in Sri Lanka," the Minister said.
Website:www.dailynews.lk