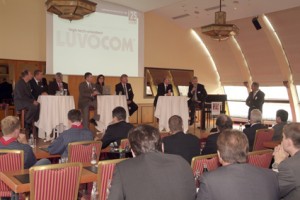 PAWCATUCK, CT USA – (February 12, 2013) – Lehmann & Voss & Co. in Germany, a leading producer of tailor-made high-performance compounds under the LUVOCOM® trademark, has launched a subsidiary company to directly serve the North American plastics compounding market. Located in Pawcatuck, CT, the new company, LEHVOSS North America, LLC, includes an experienced sales, engineering, and manufacturing team to ensure best possible support for customers and users of high performance materials. LEHVOSS North America will manufacture LUVOCOM materials in the USA to the same exacting engineering specifications and high quality standards that Lehmann & Voss & Co. is known for.
"This is a strong commitment to our customers and is a major step forward to making sure customers have full access to our solution based products and services. We are now able to deliver our expertise and tailor-made products much faster and with the dedicated support our customers require", stated Alfred Bartkiewicz, Managing Director of LEHVOSS North America.
LUVOCOM compounds ensure reliable performance under even the most severe conditions in many markets all over the world. The materials are based on a broad range of thermoplastic resins with a special emphasis on high performance polymers. For over 30 years customers worldwide have been served with formulated compounds tailor-made to the customer's specific requirements. The products can be divided into six product groups: high temperature resistant, lubricant modified, electrically conductive, carbon fiber reinforced, thermally conductive and detectable compounds.
Across a wide range of industries and applications, parts made from LUVOCOM save costs and deliver higher performance. Main industries are automotive, medical, machinery and E&E. Industry leaders are customers for many years. LUVOCOM compounds are regarded as innovative, high quality and solution provider. Engineering requirements in many markets continue to evolve and demand the fast response time and quick delivery of newly developed tailor-made materials that will be offered by LEHVOSS North America, LLC. Formerly Lehmann & Voss & Co. was represented in the USA by the joint venture Techmer Lehvoss Compounds, LLC (TLC).
For more information : www.lehvoss.de/luvocom/llc.