According to a recent Transparency Market Research report, global PET demand is estimated to reach 20.6026 metric tons (mt) in 2016.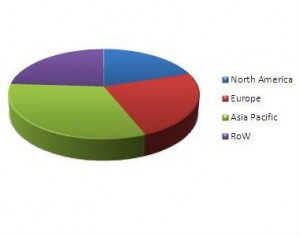 The "Global Polyethylene Terephthalate (PET) Value Chain Market Analysis (Ethylene, PET, PET Packaging) – Industry Analysis, Market Size, Share, Trends, Growth And Forecast, 2010 – 2016" report finds that the global PET market has been experiencing turbulence owing to various factors such as crude-oil volatility, economic fluctuations and increasing awareness regarding the development and use of bio-based plastics.
World demand in 2010 was estimated to be 15.912mt and is predicted to reach 20.6026mt in 2016, growing at a compound annual growth rate (CAGR) of 4.4% for the period from 2011 to 2016, the research company notes.
Asia Pacific is the largest consumer as well as fastest growing market for PET. Demand in the region is expected to cross 7mt in 2016, growing at a CAGR of 5.7% from 2011 to 2016. For the same time period, PET demand in North America and Europe is expected to grow at a CAGR of 3.7% and 3.6% respectively.
At present, carbonated soft-drinks (CSDs) are the largest global application for PET. Owing to critical properties such as lightweight, toughness and clarity, PET is the most widely used material for CSD bottles. Bottled water application is the second biggest consumer of PET. CSDs and bottled water together accounted for close to 65.05% of the overall PET demand in 2010. Alcoholic beverages, especially beer and food packaging are other key applications of PET.
However, owing to growing concerns regarding the environmental impact of PET bottles, there has been significant foray into replacing them with biodegradable alternatives such as PLA, PBS and so on, adds Transparency Market Research.
Source : http://www.adsalecprj.com/Publicity/MarketNews/lang-eng/article-128261/Article.aspx