Mumbai, 3rd April, 2014: The show will bring together raw material producers, primary processing and auxiliary equipment suppliers and traders, leveraging on the high growth potential of the UAE plastics industry.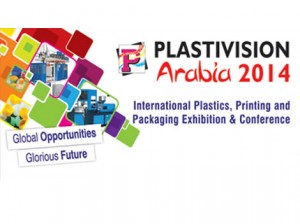 Leading suppliers from all over the world will converge on Sharjah to showcase their products to the fast growing regional markets, offering an unrivalled opportunity to strike sourcing deals, share Technological know-how and provide all the latest developments in the field of plastics.
After its impressive launch in 2012, the second edition of the biennial Plastivision Arabia will be held from April 7 to 10, 2014, at Expo Centre Sharjah in association with the All India Plastics Manufacturers' Association (AIPMA), the oldest and the largest apex body of the plastics industry in India, Mr. Jayesh Rambhia said that the show will attract 60,000 trade visitors from 40 countries which boost India's export and will ensure that the exhibition will generate enough interest within the regional industry and beyond, thus attracting quality visitors to the show.
Besides, in association with industry body Gulf Petrochemicals and Chemicals Association (GPCA), will play host to the fifth International Conference for Plastics Conversion (PlastiCon 2014) alongside Plastivision Arabia.
"Titled 'Exploring Growth through Innovation in the Plastic Conversion Industry', PlastiCon 2014 will focus on the role of innovation in developing new plastic products and opening up new markets in plastic conversion," said Dr Abdulwahab Al-Sadoun, Secretary General, GPCA.
The inaugural Print Pack Arabia exhibition and conference will also be held alongside Plastivision Arabia, and feature latest printing & packaging technology, materials and machinery. Print Pack Arabia is co-organised by the Indian Printing, Packaging and Allied Machinery Manufacturers' Association (IPAMA), and supported by the Printing Equipment Industries Association of China (PEIAC).
The second Arabia Mold too will be held alongside Plastivision Arabia, in association with DEMAT, the organizer of world-renowned EuroMold, the world's leading fair for mold-making & tooling, design and application development.
Together, these events form a comprehensive sourcing as well as networking platform for the entire regional print, packaging, plastics and mold-making industry.
About Plastivision Arabia 2014:
Plastivision Arabia 2014 will be organized by Expo Centre Sharjah, in association with All India Plastics Manufacturers Association, and the support of the Sharjah Chamber of Commerce and Industry. It will be held at Expo Centre Sharjah from April 7 to 10, 2014, and will feature Consultants' Clinic, Placement Pavilion, Business Opportunity Pavilion, Product Design & Innovation Pavilion and a Green Pavilion. Plastivision Arabia will display raw materials and machinery for key segments such as plastic processing, injection molding, thermoforming, packaging, industrial users, construction, infrastructure, automobile and telecommunication, among others.