In China, players speculate that local HDPE, LDPE and LLDPE film prices, which had been following a decreasing trend since mid-December, may be nearing the bottom after locally held offers posted declines of up to three digit declines when compared with peak December levels as per the pricing service of ChemOrbis.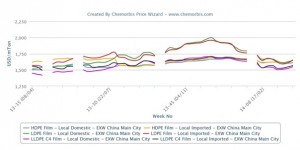 As show in the graph below created by ChemOrbis Price Wizard, both domestic and locally held import PE prices have been decreasing after reaching a peak in mid-December following an extended bullish run. According to ChemOrbis Price Index, current PE prices inside China indicate decreases of $305-350/ton for LDPE film, $140-155/ton for LLDPE film and $30-60/ton for HDPE film compared with the December peak.
However, players commented that the market has stabilized and may be bottoming out after local PE prices firmed up CNY150-450/ton ($24-72/ton) on a week over week basis.
A trader who received CNY300/ton ($48/ton) and CNY150/ton ($24/ton) firmer LDPE and LLDPE film offers, respectively, from a domestic producer stated, "Local producers' increases pulled up distribution market prices even though demand remains comparatively sluggish. We are holding low stocks and we are not in a rush to sell our materials since we also issued increases on our import prices. We anticipate stable to firmer prices in the days ahead."
A distributor reported, "We are holding limited stocks and we only have some LLDPE film cargoes to offer at the moment. Demand is still slow, but we are standing firm on our offers now that domestic producers are taking a firmer stance on prices. We remain cautious when making fresh purchases since the Chinese yuan is weak and import prices are high. Apart from these factors, we have heard some market talk regarding possible plant shutdowns in May."
Another trader said, "We believe that local prices will remain firm owing to local producers' hikes, which we believe can be attributed to easing supply concerns after the high stock levels present after the holidays have been pared back a bit. Import prices have also started to firm up, reflecting the local market's rise. We believe that prices are currently near the bottom and because of our expectation, we are limiting our sales amounts."
Players report that total PP and PE supplies in the country's warehouses, which stood at over a million tons shortly after the Chinese New Year holidays, have been pared back to around 700,000 to 900,000 tons.
According to ChemOrbis, in plant news, Shanghai Petrochemical shut their 250,000 tons/year HDPE plant in March 26 due to a feedstock shortage. The restart date is slated for late April. Shanghai Secco Petrochemical shut their 600,000 tons/year PE plant on March 10 for a 50 day maintenance. The restart date is planned to be in May. Sınopec Sabıc Tianjin Petrochemical will shut their 600,000 tons/year PE plant on May 7 for a 10 day maintenance. Meanwhile, Zhenhai Refining & Chemical will shut their 450,000 tons/year PE plant in May, with the turnaround slated to last until mid-June.