A colourful bench made from 572 recycled plastic  milk bottles has been awarded to Nunnykirk School for Dyslexia as they won a competition to promote recycling in Northumberland.
The competition, held at Glendale Children's Countryside Day last month, was run from a joint stand provided by Northumberland County Council and Marmax Products , who donated the unique prize.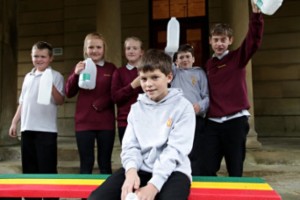 The recycling stand focused on the message that Northumberland householders can recycle all plastic bottles no matter what type – including plastic milk bottles and shampoo bottles, which are often found in general waste.
Children from schools across the county were asked to answer five questions linked to recycling. Rhys, a pupil at Nunnykirk School, was the winning entrant and he got to choose which coloured bench to have for his school.
Nunnykirk headteacher Carol Hodgson said: "We are delighted to be presented with the bench which I know the pupils and staff will use regularly! It is an added bonus that the bench is made from recycled materials as we have always made sure pupils take an interest in recycling and environmental issues in general."
The prize presentation was earlier this month at the Nunnykirk School for Dyslexia.