According to ChemOrbis, players in Europe report that PE prices are recording another month of sharp increases for May while the outlook for June is cloudy as supply concerns are showing some initial signs of easing while buyers complain that they cannot afford to accept another round of price hikes after facing three consecutive months of triple digit hikes.
A distributor based in Germany said that they have almost sold out their May allocations for West European material with increases ranging between €170-230/ton. "Short supply continues to push up prices for May. For June, we expect to see rollovers as high prices in Europe are likely to attract a greater volume of imported material," the distributor commented. Another distributor reported concluding May deals for a different West European origin with €160-230/ton hikes.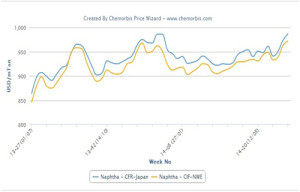 "We have raised our prices from our initial May levels as supply remains extremely tight, especially for LLDPE and HDPE. However, prices may start to level off in June as some crackers are restarting in the region and this should improve the supply situation. We are already noticing some relief in tightness for LDPE," the distributor stated.
In Belgium, a distributor said that they sold West European PE for May with €150-170/ton hikes of LDPE and LLDPE and €230/ton increases for HDPE, according to ChemOrbis. "We were able to achieve large hikes on our May deals as availability remains short. We believe that supply concerns will begin to ease in June, but we still expect to see further price hikes, albeit in smaller amounts, as tightness will remain in place," the distributor commented. A distributor based in France said that he concluded deals for a West European origin with €150/ton hikes from April. "We believe that sellers will attempt another round of increases in June, but we do not think these hikes will be accepted by buyers," the distributor reported.
In production news, Borealis lifted a force majeure on PP and PE from its site in Schwechat, Austria and monomer availability at the location is said to be regular. SABIC lifted a force majeure on PE production at its Gelsenkirchen, Germany site on April 28. The company had declared force majeure from the 175,000 tons/year LLDPE/HDPE swing plant on March 30. In addition, Versalis lifted a force majeure on PE output from its Dunkirk, France site. Versalis' Dunkirk plant is able to produce 210,000 tons/year of LDPE and 140,000 tons/year of LLDPE. Market source also report that Total's 250,000 tons/year HDPE plant in Gonfreville, France is expected to restart soon although the force majeure on output from the site has not yet been lifted.