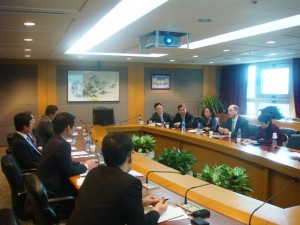 As of January 1, 2013, Paul Lindblad, former Executive Board Member of Siltronic AG, a subsidiarycompany wholly owned by Wacker Group, has been appointed as President of Wacker Chemicals Greater China. Dr. Peter von Zumbusch, former President of Wacker Chemicals Greater China, takes over a new role as Vice President Technical Engineering at Wacker Silicones.
Holding an MBA degree from Santa Clara University in USA, Paul Lindblad joined Wacker Siltronic Corporation in 1989 in San Jose, California, USA. In 1996, he was appointed Managing Director of Wacker Chemicals (South Asia) Pte Ltd in Singapore. In 1999, he became President of the former business division Wacker Ceramics in Kempten, Germany, before rejoining Siltronic as President of Siltronic Singapore Ltd.
In 2004, Lindblad was appointed Chief Commercial Officer and member of the Executive Board of Siltronic AG. "Greater China has evolved into Wacker's single most important market. I am honored to be in charge of this key business and I am looking forward to my new tasks and challenges in China," said Paul Lindblad. "During the next few years, Wacker will continue to invest another 200 million euros in this market. Currently, we are doubling our production capacity for dispersions in Nanjing and constructing a new plant for polyvinyl acetate resins to keep pace with our customers' growing demand.Additional expansion of our silicone downstream facilities in Zhangjiagang is also in the planning stage.
Together with our technical and commercial center in Shanghai as well as over 900 talented local employees, Wacker is well positioned to serve our customers in the region even better in the future and contribute to China's sustainable development." Dr. Peter von Zumbusch has been the President of Wacker Chemicals Greater China since October, 2008. During the past four years, Wacker Greater China has enjoyed rapid growth and has become the Group's largest regional market.