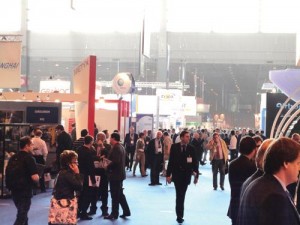 JEC Europe – Composites Show & Conferences, an international technology event, will take place from March 12 – 14, 2013 at the Paris Porte de Versailles, showcasing latest advances in heavily composite-consuming sectors such as aerospace, aeronautics, shipbuilding, railway, automotive, mass transportation, construction, equipment and sports & leisure.
During the three-day event, twelve themes will be highlighted: Design; Non-Destructive Testing, Robotics; Aeronautics; Automotive; E-car; Wind Power; Carbon; Biocomposites; Thermoplastics; Multifunctional Materials and Environment.
"The global composites market represents 81.6 billion euros in value and 9.2 million metric tons in volume for 2012. This market is growing an average of 6% per year. Composites are used more and more often to lighten structures, aircraft, and vehicles in general, thus improving energy efficiency," said Frédérique Mutel, President and CEO of JEC Group.
Mr Mutel noted that innovation is present in each of the steps of the value chain. Producers of raw materials (polymers, as well as carbon, glass and natural fibers) have heavily invested in the research and development of new formulations. At the part manufacturing level, the industry is also highly innovative, he added.
JEC is an European composite industry organization with a network of 250,000 professionals in the world. JEC represents, promotes and expands composite markets by providing global or local networking and information services.