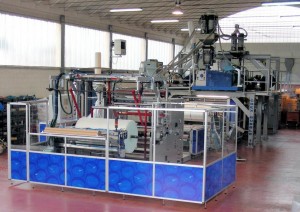 The testing of a plant COEX BUBBLE 10™ 3.100 was successfully completed last month; the line was featured for an English Company – already a Torninova client for several machines for the production and transformation of air bubble film – that confirmed its confidence in our technology by purchasing this additional production line with a production speed of more than 90 m/min.
The line is capable of producing air bubble film up to 3.100 mm (122 inches) of width in very low thickness (from 25 to 35 g/m2), and the 10-layer structure (ABCBA + ABCBA) allows the integration of an air-tight, Nylon-PA6 barrier for longer bubble air-retention, thus improving the film's cushioning and protective properties, even at these reduced thicknesses.
The patented rewinder, model TRIPLEX PLUS™, that the machine is equipped with, is the fastest automated tapeless and glueless winder for air bubble film. This turret winder is based on a three-cantilever shaft configuration that allows extremely fast cycle changes (< 30s). The automatic loading of new cardboard cores (whole or split) and extraction of finished rolls is synchronized with a roller-table at the final collection station. The new transversal cutting system allows film to be wound without glue or adhesive tape on the core. Thanks to its advanced technology, the TRIPLEX winds various types and thicknesses of air bubble film and PE-foam, into very short roll lengths, at a speed of over 100 m/min and also with the new feature of CORELESS winding.
Furthermore, the machine COEX BUBBLE 10™ 3.100 machine is equipped with automatic gravimetric dosing units, forming cylinders for the production of 20 and 25 mm of diameter bubble film, lamination unit from rolls to laminate on the top of the air bubble film any PE coated materials like paper or aluminium or any plastic films like LDPE and HDPE, in-line recycling for trims in order to completely recover and reinsert the production trims in the main extruder and an in-line perforation unit.
For any further information on these lines and on the complete range of Torninova machines for air bubble film production, please do not hesitate to get in contact with us. For pictures, videos and machine's technical features, you can also visit our web site www.torninova.com.