TEMPO, Jakarta – The paid plastic bags program is scheduled to start on February 21, 2016. The program will be initiated in an effort to reduce plastic waste. As the program comes into force in the future, modern retail stores must charge a certain fee to customers wishing to use plastic bags.
Regarding the price that must be paid by customers, Tuti Hendrawati Mintarsih, Director General of Waste, Hazardous and Toxic Materials Management of the Environmental and Forestry Ministry, said that currently the government is yet to determine a specific number. "It's still being discussed with retailers," Tuti said on Monday, February 1, 2016.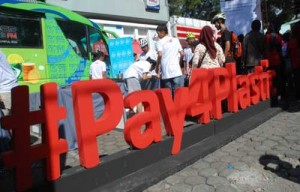 According to Tuti, the Environmental and Forestry Ministry has proposed the price to be set at Rp 500 for one plastic bag. For the detailed calculation, Tuti explained that Rp 200 would be refunded to customers who returned their plastic bags to retailers, whereas Rp 300 would be used by retailers to carry out environmental activities in cooperation with regional governments.
However, Tuti underlined that plastic bag prices could vary among regions. Based on her observation, the price for plastic bags in various sizes and in different regions ranges around Rp 500 to Rp. 5,000 for one plastic bag. "The price is flexible according to the agreement of regional governments and retailers themselves." Tuti said.
On the other hand, Head of the Indonesian Retailers Association (Aprindo) Roy N. Mandey, said that to buy plastic bags, consumers could be charged between Rp 1,000 to Rp 5,000 for one plastic bag, depending on the size and area. "Plastic bags will be sold at more expensive prices because the material will be customized to be more environmentally friendly," Roy said.
Tuti said that the paid-plastic policy has already been implemented in several countries, such as Hongkong and England. In Hongkong, people who shops using plastic bags must pay 50 cents. The effort, Tuti said, could reduce plastic consumptions by up to 73 percent.
Website:                                    www.en.tempo.co