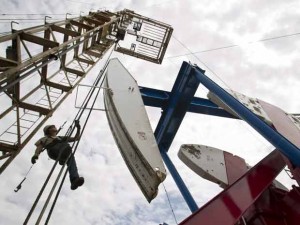 SINGAPORE: Oil touched an eight-month low near $81 a barrel Tuesday in Asia amid concern Spain's bank bailout won't be enough to stem Europe's debt crisis.
Benchmark oil for July delivery was down 57 cents to $82.13 per barrel at midday Singapore time in electronic trading on the New York Mercantile Exchange. Earlier in the Tuesday, oil dropped to $81.07, the lowest since October. The contract fell $1.40 to settle at $82.70 in New York on Monday.
In London, Brent crude for July delivery was down 34 cents at $97.66 per barrel on the ICE Futures exchange.
Crude jumped Monday after the 17 countries that use the euro common currency pledged to lend Spain $125 billion to rescue its faltering banks. However, attention soon turned to the Greek election this weekend, the outcome of which could determine if Greece stays in the euro.
"The initial bullish euphoria surrounding the Spanish bank bailout plan quickly wore off," energy trader and consultant Ritterbusch and Associates said in a report.
Greece will hold an election Sunday in a bid to form a government after political leaders failed to do so after a vote last month.
Oil has plunged about 24 percent from $106 since early last month amid signs of slowing economic growth in the U.S., China and Europe.
Traders will also closely watch a quarterly meeting of the Organization of Petroleum Exporting Countries on Thursday. Some members of the cartel have suggested recently that OPEC is producing too much crude, and the group could decide to cut supplies to help boost prices.
In other energy trading, heating oil was down 0.3 cent at $2.63 per gallon while gasoline futures fell 0.3 cent to $2.65 per gallon. Natural gas dropped 1.7 cents to $2.20 per 1,000 cubic feet.
Source : http://economictimes.indiatimes.com/markets/commodities/oil-hits-8-month-low-as-spain-bailout-hopes-fade/articleshow/14051238.cms