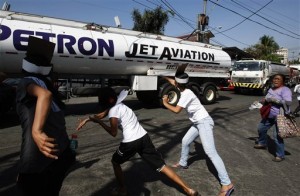 Oil prices rose slightly to near $107 a barrel Friday in Asia ahead of a key U.S. employment report that will give insight into the strength of the world's No. 1 economy and demand for crude.
Benchmark Oil for April delivery was up 32 cents to $106.90 at midday Singapore time in electronic trading on the New York Mercantile Exchange. The contract rose 42 cents to settle at $106.58 per barrel in New York on Thursday.
Brent crude was up 5 cents at $125.49 per barrel in London.
The Labor Department is scheduled to announce February employment figures later Friday. Analysts expect the economy added about 210,000 jobs last month. Strong jobs growth in December and January has bolstered confidence that economic growth and demand for oil is improving.
Crude has jumped from $75 in October and $96 last month as the U.S. economic recovery gathers momentum and Europe's debt crisis shows signs of stabilizing.
"It's obvious that speculators are investing in the market and creating a push higher on prices, but the fact remains that we are still dealing with tight crude supply in the U.S.," said Carl Larry of Oil Opinions and Outlooks. "Oil prices, if they do come off, won't see much lower than $100."
"We're on the road to recovery and despite the move to more fuel efficient vehicles, it's not going to stop the increase in demand," he said.
Simmering tensions over Iran's nuclear program have kept crude near 10-month highs. On Thursday, an Israeli official said satellite images back Israel's contention that Iran is developing a nuclear weapon. Iran says its nuclear capabilities are for peaceful purposes.
The U.S. and Europe have imposed sanctions while Iran has threatened to halt crude tankers passing through the Persian Gulf's Strait of Hormuz
Any new aggressive rhetoric from Iran or others over the nuclear issue could easily push oil up by $2 to $3 a barrel, Energy consultant and trader Ritterbusch and Associates said in a report.
Speculation that the U.S. Federal Reserve is considering a third round of Treasury bond purchases, known as quantitative easing, has also boosted crude prices since it would weaken the dollar, making crude cheaper for holders of other currencies. The program would be designed to increase the money supply and lending to spur economic growth.
In other energy trading, heating oil rose 0.3 cent to $3.27 per gallon and gasoline futures fell 0.6 cent at $3.31 per gallon. Natural gas advanced 3.3 cents at $2.31 per 1,000 cubic feet.
Source : economictimes.indiatimes.com