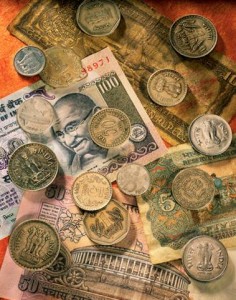 MUMBAI: Indian government bond yields and swaps inched up on Friday as rising oil prices cemented expectations that the Reserve Bank of India will prefer to wait before embarking on a rate cut cycle.
Dealers also refrained from building heavy positions ahead of the RBI's mid-quarter policy review on March 15 and the federal budget on March 16.
However, a large upside to gilt yields is expected to be limited due to some government spending this week and the central bank's debt purchase scheduled for later in the day, dealers said.
At 9:55 a.m. (0425 GMT), the 10-year benchmark bond yield was 1 basis point higher at 8.25 percent, and is expected to move in 8.22-8.27 percent band. Markets were shut on Thursday for a local holiday.
"Potentially today is the last auction and last debt purchase. Any significant reaction to bond yields will only happen next week after looking at oil prices and the two major policy events," said Nirav Dalal, president and managing director of debt capital markets at YES Bank.
The RBI will buy up to 150 billion rupees ($3 billion) of bonds, including a greenshoe option of 30 billion rupees through open market operations, while it will auction 120 billion rupees of debt. The results of the auction and the debt buy will be known after 0900 GMT.
"It is also critical to see how crude price behave on Monday as this will also have a significant bearing on the RBI's policy next week," Dalal said.
The Indian benchmark five-year overnight indexed swap (OIS) rate was up 2 basis points at 7.43 percent and one-year rate up 1 basis point at 8.16 percent.
Rising oil prices have led the market to expect that the RBI may not cut rates next week. The fuel subsidy burden of the government will also rise, which may increase its market borrowing in the next fiscal year starting in April.
Brent crude rose above $125 a barrel on Friday, posting its sixth weekly gain in seven.
"The political uncertainty is also another worry as it could well mean that the government will come out with a populist budget, and higher borrowing number," said a dealer at a foreign bank.
The Congress party's drubbing in state elections proved beyond doubt that its populist politics failed to resonate with voters, and yet investors and consumers alike are bracing for more of the same from the ruling party.
The government is expected to say it plans to borrow 5.3 trillion rupees ($106 billion) in the fiscal year starting on April 1, up from 5.1 trillion in the current year, when it releases its budget on March 16, a Reuters poll showed.
Source : economictimes.indiatimes.com