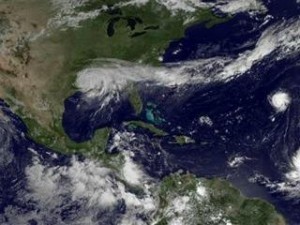 HOUSTON (Reuters) – Most oil and gas companies in the U.S. Gulf Coast region on Thursday prepared to gradually restart installations there following Hurricane Isaac, while one refinery reported flooding and scrambled to prevent further damage. Isaac, now a much weaker tropical depression moving north, posed no further threat to most energy infrastructure.
Phillips 66 said its 247,000 barrel per day (bpd) Alliance refinery in Belle Chasse, Louisiana, had been partially flooded. It offered no estimate on when the plant could restart and said personnel were trying to prevent damage by pumping water out. Isaac caused flooding after hitting Louisiana at hurricane strength on Tuesday. The storm has since been downgraded to a tropical depression, but it left a soggy mess across widespread areas of the U.S. Gulf Coast and could still bring heavy downpours and more flooding as it moves into the central United States.
Royal Dutch Shell and Anadarko were among companies that said they could begin restarting idled offshore production platforms as early as Friday. Ninety-five percent of oil production and 73 percent of natural gas production in the Gulf of Mexico remained shut, U.S. government figures showed on Thursday. Around 936,500 bpd, or 5.5 percent, of total U.S. refining capacity was still idle.
Even though damage looked minimal, it will likely take several days or a week to restore around 1.3 million bpd of offshore oil output and 3.2 billion cubic feet per day of natural gas production, experts said. Refineries are also expected to restart gradually to ensure safety. "This was not a storm that bent metal, like Hurricanes Katrina or Ike," said Tim Evans, energy analyst at Citigroup in New York. "I expect refineries that shut down completely to take time to come back after thorough inspections. Offshore production will be restored gradually over several days."
Shell said late Thursday it restarted the Capline pipeline, which carries crude between Louisiana and refiners as far north as Illinois.
U.S. oil futures fell 0.9 percent to settle at $94.62 a barrel. Natural gas futures rose 2.3 percent.
The Henry Hub terminal, a Louisiana delivery point for benchmark NYMEX gas contracts, was operating normally, a spokesman from NYMEX owner CME said.
"Now it's just a case of the actual production coming back online," said Matt Smith, an analyst at Summit Energy in Louisville, Kentucky.
"We'll probably see a temporary drop in crude imports due to Isaac and a drop in crude demand from refineries that have been closed," he added.
ISAAC'S WAKE
Around 1 million Gulf Coast customers were still without electricity as of Thursday afternoon, according to the U.S. Energy Information Administration. Gulf Coast physical market gasoline prices moved lower, despite the flooding at Phillips 66's refinery.
Most regional refineries appeared unscathed by Isaac. Independent refiner Valero said it detected no structural damage at two Louisiana plants it operates. It was unclear when they would restart.
The Louisiana Offshore Oil Port (LOOP), a crude terminal that typically handles 13 percent of U.S. imports, could resume activities at its onshore crude storage facilities on Thursday and start up tanker loadings offshore by Saturday, according to the Department of Energy. LOOP's facilities had a power outage linked to a downed transmission line that requires repair, but spokeswoman Barb Hesterman said LOOP's offshore facilities have diesel generators and its onshore works can operate on backup power.
A crude distribution terminal at St. James, Louisiana was not damaged by Isaac and will restore full operations by Saturday, said operator NuStar.
St. James is also home to rail terminals that receive crude from other U.S. regions. Rail shipments should resume on Thursday after they were cut on Wednesday, said U.S. Development, a terminal operator. (Additional reporting by Selam Gebrekidan, Janet McGurty, Eileen Houlihan, Ed McAllister, David Sheppard and Robert Gibbons in New York; writing by Joshua Schneyer; editing by Bernadette Baum, David Gregorio, Tim Dobbyn, Gary Crosse)