Michelstadt, December 2013.
i-mold GmbH & Co. KG, Michelstadt/Germany, has now extended its range of tunnel gate inserts by two new, particularly space-saving versions featuring tightly curved runners. The TGHL design (Tunnel Gate High Level) also permits the internal gating of parts in the region of the parting line in cases where the parts have a rim all the way round or are ribbed close to the edge. Conversely, the TGLL design (Tunnel Gate Low Level) is used for the gating of parts featuring an internal contour below the parting line. The tunnel gate inserts are suitable for the processing of almost all polymers.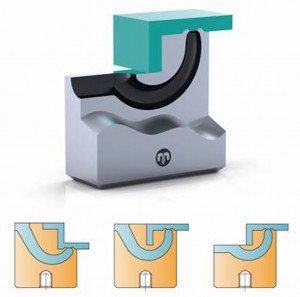 i-mold however recommends prior consultation in cases where very brittle and/or glass fibre reinforced polymers are to be processed. Both versions of the new tunnel gate insert will be shown for the very first time at Euromold (Frankfurt, 3rd to 6th December 2013) on i-mold's stand D28 in Hall 9.0.
They will be available from spring 2014, initially in Size 2 for shotweights of up to 100g (free-flowing polymers). Further sizes for higher and lower shotweights are currently being developed and prepared for production. Like all tunnel gate inserts manufactured by i-mold, the TGHL and TGLL versions are machined from HHS steel (M2/1.3343) and are readily and quickly exchangeable whenever the need arises.
The new versions are yet a further addition to i-mold's already wide range of tunnel gate inserts. Visitors to Euromold 2012 were able to familiarize themselves with the then new TPS straight standard sub-gates for side gating applications. The four sizes cover the maximum shotweight range from 20g to 1,000g. Time-tested and service-proved are i-mold's tunnel gate inserts for cashew gating applications. Available in round or square design and in numerous sizes, they are suitable for the injection moulding of parts weighing anything between 1g and 1,000g. They are also available with ample machining allowance.
i-mold will also be presenting the new Series A2 hot runner nozzles from Heatlock as a further addition to its portfolio of melt flow related products.Further information:Internet: http://www.i-mold.de