'CLARITY ON LANDFILL TAX & UPDATING PRN SYSTEM KEY TO GROWTH OF UK RECYCLING INDUSTRY'-SAYS PAUL LEVETT, CLOSED LOOP RECYCLING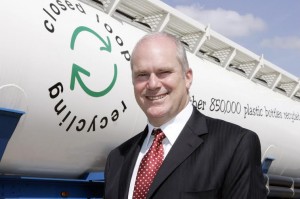 Paul Levett, chairman of Closed Loop Recycling's advisory board, is calling on the Chancellor in his Autumn Statement (5th December, 2013) to provide greater clarity on Landfill Tax in order to boost investment in the UK recycling industry.
According to Levett: "UK Landfill Tax, originally implemented in order to restrict waste sent to landfill, has helped create and develop a whole new recycling industry – including our own food grade plastic recycling industry – and create thousands of green jobs. At Closed Loop Recycling we are advocates of annual increases in Landfill Tax, at least in line with RPI, as well as long term visibility of these tax rates in order that recyclers can continue to invest with greater certainty."
In addition, Paul Levett is also repeating his call for a review of the outdated and flawed PRN/PERN system. He believes the current PRN system disadvantages domestic players and there needs to be a more level playing field for UK recyclers, as well as ensuring greater enforcement of trans-frontier shipping regulations. These measures will then help to drive up collection rates and incentivise the use of recycled content in packaging.
He said: "A revised PRN system that rewards those packaging manufacturers, retailers or brand owners who proactively choose to use recycled plastic in their products is what is needed. Users of recycled content should be able to offset this material against their PRN obligations thus creating an economic driver to bring about the best possible environmental outcome. This could revolutionise the British recycling industry and create many thousands of jobs by stimulating the construction of further infrastructure right here in the UK."