MADISON, Wis. – (January 21, 2014) – Materials scientists, engineers, and academic researchers can accelerate their research and understand materials in applications ranging from pharmaceutical formulation and life sciences to semiconductor manufacturing and geology using a new Raman imaging microscope. The microscope is so easy to operate that scientists of all abilities can simply walk up and use it to produce stunning chemical images without learning a new technique.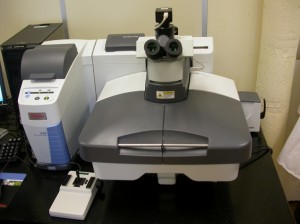 Designed to quickly reveal molecular structure, chemical composition and sample morphology, the Thermo Scientific DXRxi Raman imaging microscope can provide new insights, identify defects and confirm product quality with a high degree of confidence. By employing the image-centric software interface, users can quickly profile materials through information-rich chemical images.
Instant visual feedback and instinctive image-driven control separates this instrument from other Raman microscopes. The DXRxi microscope can analyze large areas, providing microscopic detail in just seconds. Organizations with multiple disciplines can leverage the simplicity and approachability of the DXRxi microscope to realize an immediate impact in research output.
"The DXRxi microscope enables scientists to find the needle in a haystack quickly," said Ryan Kershner, product manager, Raman spectroscopy, Thermo Fisher Scientific. "Because this high-powered microscope is so simple to operate, students and expert microscopists can rapidly collect data and answer complex questions in a variety of fields, from biological tissue to carbon nanotube research."
The DXRxi microscope offers the following features:
New Thermo Scientific OMNICxi image-centric software provides visually driven data acquisition and intuitive sample targeting and parameter optimization
Automated alignment and calibration saves time and frustration
Near-instant visual chemical profiling requires no spectroscopic expertise to interpret
Ability to analyze large samples quickly
.About Thermo Fisher Scientific
Thermo Fisher Scientific Inc. is the world leader in serving science. Our mission is to enable our customers to make the world healthier, cleaner and safer. With revenues of $13 billion, we have 39,000 employees and serve customers within pharmaceutical and biotech companies, hospitals and clinical diagnostic labs, universities, research institutions and government agencies, as well as in environmental and process control industries.
We create value for our key stakeholders through three premier brands, Thermo Scientific, Fisher Scientific and Unity Lab Services, which offer a unique combination of innovative technologies, convenient purchasing options and a single solution for laboratory operations management. Our products and services help our customers solve complex analytical challenges, improve patient diagnostics and increase laboratory productivity.