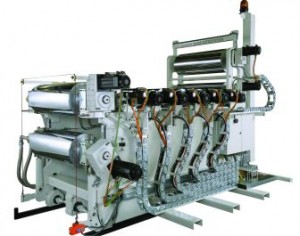 battenfeld-cincinnati has introduced a new Multi-Touch polishing stack that can achieve a high degree of transparency, good flatness and an even film thickness for a great variety of materials, such as PS, PET or PP, as well as EVA or laminated products.
The main idea in the design of this new polishing stack was derived from the theoretical assumption that infinite line speeds could be realized with an infinite number of gaps for final calibration, the company explains. In the Multi-Touch polishing stack, this idea has been put into practice with a two-roll polishing stack for preliminary calibration, followed by three, five or seven rolls for final calibration. The first two rolls come with a large diameter to minimize deflection. They are followed by smaller rolls in order to achieve flat, stress-free film and sheet.
In contrast to the well-established, conventional three-roll polishing stacks, battenfeld-cincinnati says the new design thus provides even, consistent contact between the film and the rolls even at maximum line speeds, which ensures optimal cooling of both sides of the film. The greater numbers of post-cooling gaps provide a reliable means to even out film thickness tolerances. In this way, film can be produced with maximum transparency, good flatness with only few orientations, and a uniform thickness profile.
Thin-walled chill rolls with small roll diameters are used to facilitate easy handling, with a simultaneous increase in cooling performance. As said, they offer the same hardness and line load capacity as conventional rolls, yet operate significantly more efficiently.
The first prototypes of this polishing stack were built in 2008, according to battenfeld-cincinnati. The first Multi-Touch polishing stack has been up and running on the production floor of a major German film producer since autumn 2011. The polishing stack is now available with up to seven post-cooling chill rolls for outputs of up to 3,600kg/h for PP.
Source : http://www.adsalecprj.com/Publicity/MarketNews/lang-eng/article-124499/Article.aspx