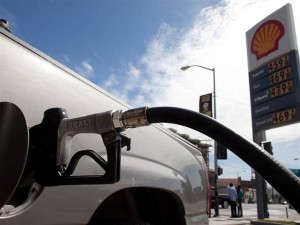 After dismal predictions of astronomical gas prices earlier this year, the price per gallon is instead dropping at a rapid rate as the summer driving season gets into full swing.
According to AAA's Daily Fuel Gauge Report, the average price of a gallon of regular gas in Hampton Roads and the Southside on Friday was $3.26, down from $3.52 a month ago. The national average price of regular gas is $3.45.
Those averages are significantly lower than projections made in January that gas prices could rise to $4 a gallon. GasBuddy's annual outlook for 2012 estimated the median price of regular gas at $3.95 for May. But AAA reports that the national average for regular gas last month was $3.67.
Deborah Hewitt, assistant dean for master's of business administration programs at the Mason School of Business at the College of William and Mary, said a global economic slowdown is the reason for the drop in gas prices.
"Oil prices are set by the global market," she said. "What is going on now is, global growth is slowing in key centers. The United States is slowing, [as is] Europe with its debt trouble, even India and China."
Hewitt, an associate professor of economics and finance, said that as growth slows, energy consumption declines; demand drops and prices go down. She said it's difficult to predict whether gas prices will continue to drop into the fall, which she said could depend on whether Europe resolves its debt crisis. Should there be a "true structural change" to stabilize Europe's finances, Hewitt said that could improve global market confidence and drive oil prices back up.
Tom Kloza, chief oil analyst for the Oil Price Information Service, said that futures markets are suggesting that wholesale gasoline prices could drop well below $3 a gallon. Kloza said there are "many wild cards" that could impact gas prices in the next six months, including global growth, OPEC policy and the price of crude oil. In the next couple of months Kloza said he anticipates gas prices will not "continue to free fall" and will likely stabilize.
In the mean time, Hewitt said the drop in gas prices couldn't come at a better time in the United States.
"It's a great boon here in America since this is our driving season," she said. "When oil prices get lower we get a little more action (in the economy). People drive more and buy a little more at the mall."
Bob Harris, senior vice president of tourism at the Williamsburg Chamber & Tourism Alliance, said in a tourism market like Williamsburg that is a "very big 'drive' market," lower gas prices is a positive thing.
"We are very dependent on the leisure traveler in Williamsburg," he said. "Leisure travel is very impacted by the economy and gas prices. Gas prices going down makes it a more affordable destination."
Jack Hornbeck, president of the Hampton Roads Chamber of Commerce, said lower gas prices are also a positive for the local business market, which is very dependent on vehicular transportation.
"If a business owner's vehicle gets caught in traffic trying to get through the bridge tunnels, that's an expensive proposition as they're burning fuel," he said. "A reduction in gas prices is obviously a positive for companies. If they can reduce the cost of doing business they can potentially be more competitive (in pricing) to their customers."
Gas prices
National average price of regular gas $3.45.
Average price of regular gas in Virginia $3.24.
Average price of regular gas in Norfolk-Virginia Beach-Newport News area $3.26.
Average price of regular gas in Norfolk-Virginia Beach-Newport News area last month $3.52 and a year ago $3.54.
Source : http://www.dailypress.com/news/breaking/dp-nws-gas-prices-0623-20120623,0,3000788.story