Hexagon Metrology launches a new generation of portable measuring arm, featuring optimized ergonomics and stability, creating the best ROMER Absolute Arm ever.
Hexagon Metrology announced today a new generation of the ROMER Absolute Arm. This portable measuring arm is now more user-friendly than ever before, thanks to a completely new wrist design that improves handling and provides immediate acoustic and haptic feedback. A modified counterbalance also improves the movement of the arm when it is in use, enhancing user experience.
The new ROMER Absolute Arm is a versatile all-purpose metrology tool. It is designed for tactile and non-contact measurement of a huge variety of parts in an almost unlimited number of industry sectors. An enormous range of touch probes, non-contact probes (for tube and hose measurement) and laser scanners are available, allowing users to always use the best solution for their measurement needs, whatever the task at hand. A repeatable probe mounting means that users can swap probes as they work without the fussy calibrations normally associated with other competitive measurement arms.
For scanning applications the ROMER Absolute Arm is available with a completely integrated high-performance laser scanner or, for the most challenging scanning jobs, the external laser scanner CMS108. They are the only truly verifiable portable scanning systems on the market today.
"With the new arm generation, we have created a versatile and mobile measurement tool that combines state-of-the-art user experience with our mature and industry-proven solutions", said Eric Hollenbeck, Product Manager for Hexagon Metrology. "Thanks to the optimized ergonomics, this is without a doubt the best ROMER Absolute Arm ever."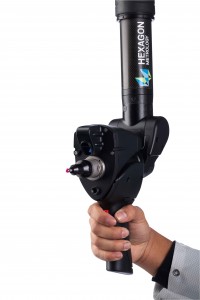 Through Hexagon Metrology's worldwide sales network, the ROMER Absolute Arm is available immediately. It will first be presented at MACH exhibition, Birmingham, United Kingdom (Hall 5, booth 5710). More detailed product information and technical specifications can be found at www.hexagonmetrology.com.
About Hexagon Metrology
Hexagon Metrology offers a comprehensive range of products and services for all industrial metrology applications in sectors such as automotive, aerospace, energy and medical. We support our customers with actionable measurement information along the complete life cycle of a product – from development and design to production, assembly and final inspection.
With more than 20 production facilities and 70 Precision Centers for service and demonstrations, and a network of over 100 distribution partners on five continents, we empower our customers to fully control their manufacturing processes, enhancing the quality of products and increasing efficiency in manufacturing plants around the world. For more information, visit www.hexagonmetrology.com.
Hexagon Metrology is part of Hexagon (Nordic exchange: HEXA B). Hexagon is a leading global provider of design, measurement and visualisation technologies that enable customers to design, measure and position objects, and process and present data.