The CircuitWorks range of handy pens and syringes for electronic prototyping, rework and repair of circuit boards includes flux dispensing and flux removal in their range, now available ex stock from Intertronics.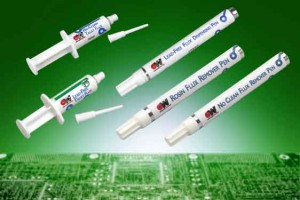 Explained Peter Swanson, M.D. of Intertronics: "CircuitWorks flux dispensing pens provide a convenient and clean way to apply a variety of flux types commonly used in prototype, rework and repair and low volume production – with controlled and exact application. The tacky gel formulations hold components in place during processing. They are non-corrosive and halide-free, meet relevant IPC and other industry specifications, plus they are fast drying and minimise flux waste."
The range includes non-corrosive rosin flux, no-clean flux (non-corrosive and halide free), also lead-free flux and water soluble flux in convenient pen formats. No-clean and lead-free tacky fluxes to ROL0 are available in handy syringes and are suited to BGA rework applications.
CircuitWorks flux remover pens from Intertronics include rosin flux, no-clean flux and lead-free flux removers to complete a series which is expected to be of advantage to prototyping, rework and re-configuring engineers throughout the electronics industry.
For further information please see www.intertronics.co.uk/circuitworks