Udel® P-1703 NT is First PSU Foam for Wire and Cable
BOLLATE, Italy, April 7, 2014 – Solvay Specialty Polymers has launched Udel® P-1703 NT, a high-performance polysulfone (PSU) foam grade that provides low-halogen content and low-smoke performance for wire and cable applications. The new material passes the stringent NFPA 262 smoke and flame test for plenum (CMP) applications and is also the industry's first PSU foam for the wire and cable industry. Solvay made the announcement at the Wire 2014 exhibition (Hall 12 Booth B33) April 7-11 in Düsseldorf.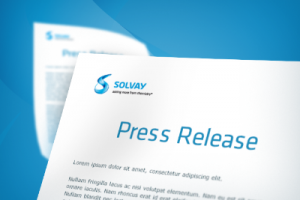 "The industry is pushing for eco-friendly alternatives in wire and cable and Solvay has responded with a proprietary polymer solution that meets the low-halogen, low-smoke requirements while providing exceptional performance in these demanding applications," said Michael Finelli, Senior Vice President-Head of Sulfone Polymers for Solvay Specialty Polymers.
Udel® P-1703 NT PSU resin offers a significant cost advantage over competing resins such as fluorinated ethylene propylene (FEP) because of its lower specific gravity (1.24) and higher foam rate (50% to 60%). The material's high foam rate also imparts a low dielectric constant (1.8 to 2) to meet cable electrical requirements without the need for significant modifications to existing constructions.
Typically, Udel® P-1703 NT is chemically foamed using a FCB-8 foaming masterbatch, which is also supplied by Solvay Specialty Polymers. The material can also be foamed with physical foaming gases such as nitrogen. A ratio of 97%wt of P-1703 NT resin to 3%wt FCB-8 masterbatch is typically used to achieve 50% foaming. By controlling this ratio and other processing conditions, the foaming level can be dialed into the customary 20% to 70% closed-cell structure utilized in the industry.
Udel® P-1703 NT PSU with FCB-8 is currently being used for separators (tapes and cross-webs) in CMP Category 6 telecommunication cables. The technology can potentially be applied to other plenum applications including fiber optics (OFNP), jackets, and primary insulation in cables. Other potential plenum applications include plenum raceways and fire alarm cables.
Since the use of Udel® P-1703 NT is a contributing factor to cables passing the stringent NFPA 262 smoke and flame test, the material is expected to be suitable for use in telecommunication riser cables, which require compliance with the less-stringent UL 1666 flame test. Utilization of the Udel® PSU foaming technology in wire and cable is expected to lead to compliance with both FIPEC 1 (IEC 60332-3) and FIPEC 2 standards for the European telecommunications market, which is a leading user of low-halogen content/low-smoke materials.
Udel® P-1703 NT is also envisioned for use in wire and cable applications for transportation railway and shipboard, oil and gas platform, MIL SPEC, and other confined space uses. It is now commercially available in the U.S. and Europe.
Solvay is committed to the wire and cable industry with a broad-based material portfolio which also includes Hyflon® perfluoroalkoxy (PFA) and MFA perfluoropolymer, Halar® ethylene chlorotrifluoroethylene (ECTFE), Solef® polyvinylidene fluoride (PVDF), Cogegum® GFR cross-linkable HFFR compounds and AFR thermoplastic HFFR compounds, Polidiemme® XLPO, Radel®polyphenylsulfone (PPSU), KetaSpire® polyetheretherketone (PEEK), and AvaSpire®polyaryletherketone (PAEK). These materials deliver the performance and safety demanded by cable manufacturers, building owners, engineers, and equipment designers in a range of industries including telecommunications, oil and gas, automotive, aerospace and military, industrial, and consumer electronics.
About Solvay Specialty Polymers
Solvay Specialty Polymers manufactures over 1500 products across 35 brands of high-performance polymers – fluoropolymers, fluoroelastomers, fluorinated fluids, semi-aromatic polyamides, sulfone polymers, aromatic ultra polymers, high-barrier polymers and cross-linked high-performance compounds – for use in Aerospace, Alternative Energy, Automotive, Healthcare, Membranes, Oil and Gas, Packaging, Plumbing, Semiconductors, Wire and Cable, and other industries. Learn more at www.solvay.com.