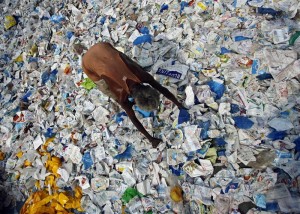 The Delhi Government has decided to enforce a blanket ban on plastic bags, starting Nov. 22, in the Indian capita of New Delhi.
The government announced 22 October that the plastics industry had one month to dismantle the infrastructure for manufacturing bags in Delhi. The move is a jolt to the industry in the capital. Estimates for the number of workers employed making plastics bags range from 50,000 to 250,000, the latter from the Confederation of All India Traders Association. The ban does not apply to bio-medical waste bags and packaging for food such as milk and flour.
This is a second attempt to ban plastic bags in Delhi. The Delhi High Court in its 2009 order to the state government imposed a ban, but manufacturing continued and the ban was not successful. Now the ban has been imposed in accordance with the Environment (Protection) Act, under which violators can face fines and prison time.
Source : http://www.wasterecyclingnews.com/article/20121031/NEWS03/121039980/new-delhi-india-to-attempt-another-ban-on-plastic-bags