At Fachpack 2013, MULTIVAC will be showing three compact packaging machines for the medical products and healthcare industry, which enable even very small batches and frequently changing product groups to be packed flexibly.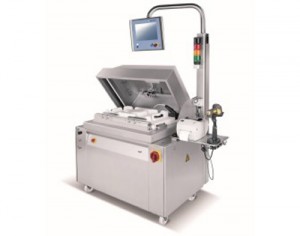 The list of exhibits include the R 145 thermoforming packaging machine, in which a MR296 direct web printer is integrated, as well as the T 260 traysealer and the C 400 TC special chamber machine with temperature-controlled sealing bar.
"They are very efficient entry level models with a high level of process reliability, which are ideally suited to the packaging of sterile medical items and healthcare products in smaller and medium-size batches," says Verena Weiss, Product Manager for the MCP (Medical, Cosmetics and Pharmaceuticals) business division at MULTIVAC.
According to the German-based machinery supplier, all three models are designed in accordance with the MULTIVAC Clean Design, and they meet the cleanroom and cleanliness requirements of product manufacturers and packers.
The compact models have a particularly high level of process reliability. "In the case of the R 145, we have for example designed the sealing station in such a way, that an exceptionally precise temperature distribution over the entire sealing surface is ensured," explains Ms. Weiss. "This means that seal seams with high peel strengths are produced, which improves the seal quality and pack reliability."
As for its T 260, the packaging procedure can be set seamlessly, which produces good precision. The semi-automatic traysealer also gives a complete overview of the entire process as well as traceability of the individual process stages during packing.
With the example of the C 400 TC, a special chamber machine with a temperature-controlled sealing bar for sterile medical products, MULTIVAC will be presenting a solution for the traceability and seamless documentation of the packaging procedure with the aid of barcodes and Radio Frequency Identification (RFID) radio chips.
The MR 296 TI direct web printer from MULTIVAC Marking & Inspection, which is integrated in the R 145 thermoforming packaging machine, will also be on show. The thermal inkjet printer is particularly suitable for multi-track packaging solutions.Fachpack 2013 will takes place in Nuremberg, Germany from September 24-26.
Source:  www.adsalecprj.com/Publicity/MarketNews/lang-eng/article-67007537/Article.aspx