More buyers in China are reporting that acetylene based PVC   is attracting more interest these days as this product is continuing to be traded at a discount that is close to a record high against ethylene based PVC as per the pricing service of ChemOrbis. Domestic prices for both ethylene and acetylene based PVC are mostly steady week over week while the discount on acetylene based PVC currently stands at over $130/ton.
An ethylene based producer elected to keep their local prices stable while selling out their export allocation. A producer source commented, "We lowered our operating rates and we are not optimistic about the outlook. Prices are unlikely to gain ground considering sluggish demand and pressure from lower acetylene based PVC prices ."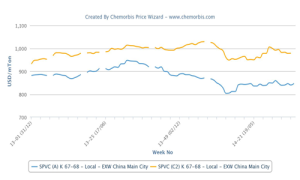 A source from another domestic producer added, "Most ethylene based PVC plants are running at lower rates at around 30-60% as some deals were concluded with even deeper discounts for acetylene based PVC due to sluggish demand. Several converters are switching to acetylene based PVC as an alternative to reduce their costs, which is exerting sales pressure on ethylene based PVC suppliers." According to the source, more acetylene based PVC capacities will come online in October which was interpreted as another bearish factor in addition to the low season.
An acetylene based PVC producer is continuing to give stable offers. A source from the producer reported that they are focusing more on their local sales and added that they have concluded some deals with their regular customers. The producer projects a steady trend for the short term while running their plant at full capacity.
A distributor offering Japanese PVC to China commented, "Our sales lost speed recently as some of our customers shifted to use local acetylene based PVC in order to reduce their costs." The seller thinks that prices are unlikely to move higher given sluggish demand and weaker ethylene costs.
According to ChemOrbis, most sellers are yet to determine their new PVC prices as they were waiting to see the new offers from a major Taiwanese producer, who issued discounts of $10-20/ton on their September PVC prices to China at the beginning of this week.