A downward trend has been in place in major PE markets for at least three months in Asia and the Middle East while the European PE market has been on a downturn since early July as per the pricing service of ChemOrbis. During this period, LDPE appears to have lost its traditional premium over HDPE in Europe and the Middle East. The Chinese market, meanwhile, has already seen LDPE trade at similar levels to HDPE for most of 2014.
In the Italian market, average LDPE prices are currently trading at par with HDPE film in the local market, although LDPE went even below HDPE film for much of the past five months, according to ChemOrbis Price Index. LDPE supplies are considered the most comfortable across Europe while HDPE supplies, particularly for film grade, have been facing some constraints from time to time. Therefore, the decreases witnessed in the LDPE market were sharper than for HDPE film in the past five months in Italy, as can be seen from the graph below.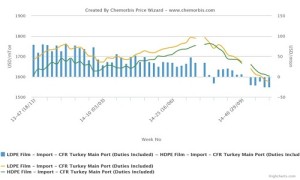 The Middle Eastern PE markets have tracked a mostly similar trend to Italy. After the downward trend kicked off in mid August, average import LDPE prices in Turkey traded with a smaller than usual premium over HDPE film until October, according to ChemOrbis Price Index. Since the end of the Eid holiday celebrated in early October, average LDPE prices have even fallen below HDPE film in the import market.
Apart from the global downward trend, the downward pressure from Europe, where LDPE supplies remain comfortable, and the gradually depreciating euro against the dollar caused import LDPE prices to post the largest decrease among other PE products in Turkey. LDPE prices lost more than $200/ton while LLDPE and HDPE film respectively decreased by around $180/ton and $160/ton on average in the last three months, based on ChemOrbis Price Index.
According to ChemOrbis, in China, LDPE's traditional premium over LLDPE and HDPE film has been erased for much of 2014. Having been traded with a premium of more than $100/ton in the last quarter of 2013, LDPE prices gradually lost ground in the first few months of 2014 while HDPE film was only slightly softer, as can be seen from the graph below. This caused the premium LDPE carries over HDPE film to shrink or even to be lost. The two products have been trading almost at equal levels on average or with only slight differences in the import PE market since the beginning of the second quarter of this year.