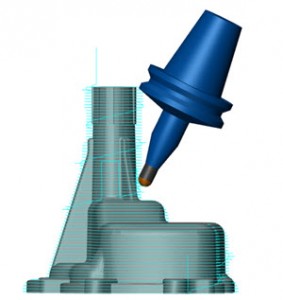 ModuleWorks, the leading supplier of CAD/CAM components for 5-Axis machining and CNC simulation, will be showing the latest toolpath generation and simulation technology at Euromold (Hall 8, booth E112) from 27-30th November 2012.
ModuleWorkscontinue to be at the forefront of 5-Axis machining and Simulation technology, providing componentsoftware that powers more than 50 CAM industry partner applications. At Euromold, they will be showing the recent release of their CAD/CAM components, 2012.8, and previewing the upcoming 2012.12 version, the 3rd major update of 2012. The full range of products will be on display including components for 3-Axis machining, 4/5-Axis machining and Simulation.
At the booth they will be showcasingthe latest 3-Axis and 5-Axis roughing strategies, which offerfast and efficient material removal for mold making and many other manufacturing applications. ModuleWorks adaptive roughing provides dramatically faster stock removal by maintaining constant tool load with a smooth toolpath, leading to reduced cycle times, improved tool life and optimum surface finish. It can be used as a 3-Axis or as a full 5-Axis strategy, where additional tilt as applied to suit the target geometry. It can be applied to surface, solid and STL geometry.
David Plater, Technical Director for ModuleWorks comments "Roughing is critical to almost all machining applications. Faster material removal rates combined with optimal tool life give mean shorter manufacturing times and reduced costs. Our partners and their customers have had excellent results with our latest roughing strategies and we will continue innovate in this aspect of CAM technology."
About ModuleWorks
ModuleWorks is a software component provider for the CAD/CAM industry. ModuleWorks' expertise in 5-Axis Machining and Simulation is recognized throughout the CAM industry and its software components and development services are used by the majority of the leading CAM vendors. ModuleWorks 5-Axis and Simulation software has been used in the manufacture of complex parts for over a decade and they have many users in the global CAD/CAM industry.