It's become a habit. For the last five years caution has been the order of the day at this time of the year when talking about the world's leading industrial subcontracting show. Haven't industry and above all subcontracting been named as the principal victims and symbols of the persistent crisis that Europe in general and France in particular are labouring under?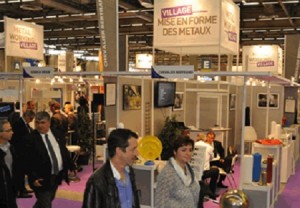 The 43rd MIDEST, which will run from 19th to 22nd November at the Paris Nord Villepinte Exhibition Centre, is no exception to the rule. But, at this stage, its organizers are firmly optimistic on the back of good figures from France and abroad. They are working hard to ensure that the event supports subcontractors even more effectively. Rather than just helping them to get through this difficult period the aim is to attract visitors from new or developing sectors in particular that offer real and profitable sales opportunities, so enabling its exhibitors to boost and develop their activities. What's more, the event's exhibitors seem to be well aware of this, since, as of 23rd May, bookings are 7% up compared with the same stage last year and 70% of the space has been firmly booked.
Once again, the show is working on behalf of its exhibitors by launching a number of new initiatives. There will be a focus on one of the sectors of the future, energy, and South Africa will be the show's first non-European country of the year. This will open up new prospects for cooperation for export-oriented subcontractors. These measures have been accompanied by the launch a few weeks ago of a totally new web site designed to help web visitors in their searches throughout the year. It will deliver market news and really highlight the various different sectors of industrial subcontracting.
Focus on energy and South Africa
Beyond its primary role as a catalyst for meetings and a generator of business, MIDEST also guides both its exhibitors and visitors through the major changes in global industry. It is therefore entirely logical that the emphasis this year will be on one of the most dynamic sectors of industry, energy, which will be the star of the TV studio and the subject of a number of lectures and talks.
MIDEST is also taking a closer look at the BRICS, who are currently driving the world economy forward. To this end, it has selected the latest member of this club, South Africa, as its first non-European country of the year. It will be represented by its Department of Trade & Industry (DTI). As a result of its history, the country boasts a comprehensive and self sufficient body of know-how for industry in general and subcontracting in particular across all the major markets. Keen to open up to the world, as this initiative will demonstrate, South Africa offers an outstanding opportunity for European manufacturers looking to expand their activities internationally.
The MIDEST Awards are back once again and will highlight subcontracting excellence to both visitors and exhibitors. Sixty free lectures and talks, some short, some detailed, will present the latest technical, strategic and economic advances. Finally, the Technology Centres run by the CETIM (mechanical engineering technical centre) and the LRCCP (rubber and plastics research and monitoring laboratory) are also back.
New look MIDEST web site
Over recent years, MIDEST has worked on stimulating and supporting its market beyond the four days of actual face-to-face meetings. Just how successful it has been in this can be seen from the fact that 50% of all the visits over the year to www.midest.com take place between January and September.
This year, the design and content of the site have been totally reworked in support of this drive. Mid April saw the appearance of various different universes corresponding to the show's major sectors of activity, with the aim of providing visitors to the web site with more and more market-based information in real time. Visitors will also benefit from an even more powerful search engine to help them list subcontractors that meet their requirements. The goal is to exceed the total of 2.15 million page impressions achieved in 2012, which was itself 11% up on 2011, and also the 291,000 individual visits.
MIDEST is also building up its presence on the various different social networks. It now has over 1,500 members on Viadeo, 700 Twitter followers, a LinkedIn group for an English-speaking public and a Facebook page.