Royal DSM, the global Life Sciences and Material Sciences company, announces a broad portfolio of halogen free materials for electronics and electrical applications. By eliminating substances of potential hazardous concern, DSM makes a significant contribution to solutions that reduce the environmental impact of e-waste and address the customer drive for more sustainable solutions.
The electronics and electrical industry is facing growing regulatory demands and OEM requests related to the elimination of substances of hazardous concern, requiring, for example, halogen-free technology and solutions for lead-free soldering.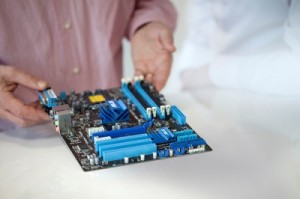 Moreover, producers of key electronic components, such as connectors, sockets, wire & cables, low voltage switch gear devices and, more specifically, enclosures of MCB, MCCB and other Industrial Control Gear devices and LED lighting, are looking to advance miniaturization, system cost reduction and integration of components. This requires materials with higher mechanical, thermal and processing performance over conventional halogen-free high temperature polyamide materials, such as higher temperature performance and flow, thin wall strength, high reflectivity and Glow Wire Ignition Temperature (GWIT) at end use part level.
Building on many years of experience as a leading solution provider in the industry, DSM offers a complete product portfolio of halogen free high performance engineering plastics for robust solutions which extends customers' choice with performance. Based on the various application requirements, the full range includes:
Wire and Cable
Arnitel® XG thermoplastic copolyester (TPC) is the alternative for PVC in DC and AC power cables as well as data cables such as USB (Universal Serial Bus) or HDMI (High Definition Multimedia Interface). Like other Arnitel grades it is halogen free and free of restricted materials and plasticizers (unlike PVC) – nor does it release carcinogenic compounds into the environment during its manufacturing, use and disposal. It is both EU and UL compliant, and offers excellent mechanical and chemical properties.
Connectors and Sockets
Stanyl®, Stanyl® ForTii™, Akulon® and Novamid® are well-established materials for the electronics market. From connectors and sockets in consumer electronics, appliances or industrial applications to various components such as switches, relays, and bobbins, DSM offers outstanding performance materials – all entirely free of halogen and red phosphorous.
For DDR connectors, Stanyl and Stanyl ForTii both have excellent war page and thin retention characteristics and are used by the majority of OEMs and ODMs in desktops and servers.
Stanyl and Stanyl ForTii both excel in connector applications like SATA (Serial ATA) and SAS (Serial Attached SCSI) connectors, FCP (Printed Circuit Board) connectors and Memory card connectors. Most smartphones, tablets, TVs or notebooks in the market today use these materials, which have been developed to retain high stiffness, even at elevated lead-free reflow assembly temperatures, drastically reducing warpage to minimize rejects.
In appliance and industrial applications, Stanyl ForTii is increasingly being recognized by leading manufacturers as the ideal solution for SMT terminal blocks. DSM is the first supplier to offer a solution for the SMT (Surface-Mount Technology) RAST connector – offering a broad range of properties from good dimensional stability to good strength, and from outstanding electrical properties to a robust UL 94 V-0 flammability rating. Together with Akulon and Novamid DSM covers the entire product range for terminal blocks and RAST connectors.
Tamim Sidiki, Global Marketing Director – Electronics at DSM says: "Our broad halogen free product portfolio enables the electronics industry to meet the increasing pressure from regulators and deliver effective solutions to consumers looking for a greener product." He adds: "DSM is fully committed to the electronic industry and understands its dynamics. In addition to our product offering which meet the industry's requirements of today and tomorrow, we have a dedicated team of experts who are ready to support customers' developments, making DSM the global development partner of choice."
Lighting
With LED lighting seeing a rapid implementation in consumer and industrial markets, the need of highly reflective, high temperature , high glow engineering plastics arises for applications like LED array holder and LED connector or terminal blocks.
DSM's Stanyl ForTii offers a unique combination of high reflectivity together with excellent mechanical strength and UL-94 V0 flammability rating. White color components of high reflectivity are commercial in various lighting applications and see a strong market pull.
Electrics
In electrics, the most critical aspect is safety – both in use and at end of life. DSM engineering plastics comply with, or exceed all relevant regulations around the world, with a track record and heritage that is second to none in this segment.
Over the past 30 years, DSM has been at the forefront of halogen-free developments for the electrical industry, meeting both performance as well as sustainability requirements for enclosures and functional components of MCBs, MCCBs, thermal relays and suchlike. Moreover, DSM materials have been found to be eminently suitable for replacing thermoset materials up to high ratings. Finally, what is even more comforting for this industry: all these grades have been extensively tested and proven in their performance.
Peter Dufour, Global Marketing Manager – Electricals at DSM states: "Together with our customers worldwide, we have been able to partner up and develop this extensive, proven performance portfolio which meets modern demands from the industry. This was only possible thanks to our thorough understanding of the needs and requirements: safety, performance as well as sustainability. Whilst being global, we were also very aware of local needs in our development schemes. Our local expert teams, who often come from the industry itself, are fully committed to this industry and support our customers with the knowledge that only a company can have with a very long and successful track record."
More information can be found on our :www.dsm.com