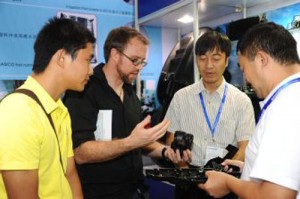 The latest edition of Asiamold, the Guangzhou International Mould & Die Exhibition, will be held from 24 – 26 September 2013 at Poly World Trade Centre Expo in Guangzhou, China. According to the organizer, Guangzhou Guangya Messe Frankfurt, the exhibition plans to occupy 20,000sqm of exhibition space, and is expected to have over 400 exhibitors and 22,000 visitors from around the world.
As said, confirmed exhibitors will represent a total of 15 countries and regions, including Austria, Belgium, China, France, Germany, Hong Kong, Israel, Japan, Korea, Malaysia, Portugal, Singapore, Taiwan and the US. In addition, there will be pavilions. Currently, pavilions from India, Korea, Japan and Malaysia are expected at the exhibition.
The 2013 exhibition will welcome several new associations, including the Korea Diecast Industry Cooperative, Korea Federation of Fasteners Industry Cooperative and the Organization of Plastics Processors of India. They will join other associations to present the latest technology developments and breakthroughs from their respective members by co-organizing the "Asia Precision Manufacturing and Engineering Forum – Moldmaking / Metal Manufacturing & Components Specials".
Meanwhile, around 100 groups consisting of approximately 1,500 industry experts and decision-making buyers have registered to attend the show. Companies that will be represented by delegation participants include BYD, CAPSA, Foxconn, Gree, Midea, Mitsubishi, Nissan, Nokia and TCL.
In 2012, China's mold industry achieved US$20.69 billion in sales for the year, with US$3.23 billion of that from export. Buyers from 188 countries and regions imported China-made moulds in 2012. Demand for advanced machinery remains high in China, especially among manufacturers based across the Pearl River Delta region. For makers of machine tools, consumer electronics and molded products, advanced machinery provided US$2.68 trillion in industrial output value during the first 11 months of 2012, with total sales volume equaling US$ 2.62 trillion, the organizer says.
Asiamold is organized by Guangzhou Guangya Messe Frankfurt in cooperation with EuroMold, the Hong Kong Federation of Innovative Technologies and Manufacturing Industries Limited and Guangzhou Die & Mould Industry Association. The show is also a part of an alliance with member shows in Africa (AfriMold), Asia (DieMould India, INTERMOLD Japan, INTERMOLD Korea), Europe (Euromold, RosMould) and the Americas (AmeriMold, BrasilMold).
Source: www.adsalecprj.com/Publicity/MarketNews/lang-eng/article-67006635/Article.aspx