DuPont is realiging its leadership team to accelerate its integrated science execution and is planning to sell its Performance Chemicals segment, the company announced recently.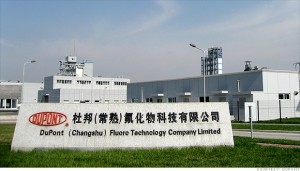 James C. Collins, Jr, who currently leads the Industrial Biosciences business, will become Senior Vice President, reporting to DuPont Chairman and CEO Ellen Kullman, and will oversee the Industrial Biosciences, Performance Polymers and Packaging & Industrial Polymers businesses.
In addition, Matthew L. Trerotola will rejoin DuPont and report to Ms. Kullman as Senior Vice President with responsibility for the Protection Technologies, Building Innovations, and Sustainable Solutions businesses. Prior to the appointment, Mr. Trerotola served as Vice President and Group Executive of life sciences for the Danaher Corporation.
DuPont also says it is considering full or partial separation of each of its Performance Chemical segment businesses from the company through a spin-off, sale or other transaction. The segment includes Titanium Technologies and Chemicals & Fluoroproducts businesses which generated total sales of US$7.2 billion in 2012. DuPont may pursue a different strategic alternative for each business.
"As we discussed at our Investors Day in May, we have been carefully weighing the strong cash generation of our Performance Chemicals businesses against their cyclicality and lower growth profile, as well as where the power of DuPont's integrated science can be differentiated," said Ms. Kullman. "We are evaluating options for our Performance Chemicals businesses as part of our ongoing plan to deliver higher growth and greater value creation for our shareholders."
Source:  www.adsalecprj.com/Publicity/MarketNews/lang-eng/article-67006674/Article.aspx