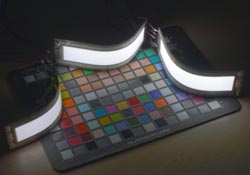 A flexible OLED from Osram has set a new efficiency record. Like their LED cousins, OLEDs are semiconductors that convert electricity into light
However, whereas LEDs create points of light from a tiny luminescent chip, OLEDs generate illuminated surfaces using so-called OLED panels. Initial OLED products in the form of thin tiles have been on the market for two years now, and bendable variants are currently being developed.
Osram researchers have now produced in the lab a flexible OLED that emits white light from a surface measuring approximately 11×3 centimeters. The unit generates 32 lumens of light per watt of electricity, making it more efficient than a halogen lamp.
OLEDs are extremely lightweight surface-emitting panels just a few millimeters thick that provide glare-free, white light. Their structure opens up previously unimaginable interior-design possibilities that include luminescent room partitions. The active illuminating layer of an OLED consists of organic plastics and has a thickness of only half a micrometer.
In the rigid OLED variant, this layer and thin metal contact points are affixed to a glass panel. An inactive OLED has a hazy white or reflective surface. Transparent OLED variants are also being developed that can serve as windows during the day and sources of light in the evening. Because an OLED's luminescent layer is flexible, researchers are also working on bendable OLED variants. Still, the flexible luminescent surfaces need to be made more efficient if they're to be successful on the mass market.
The 32 lumens per watt achieved by the Osram scientists was in part due to a special design for the vacuum-metallized electrical contacts. The record efficiency values were measured using a large-area sample under the most realistic conditions possible, and without any lenses or other devices to increase the light yield.
One of the challenges associated with the design of flexible OLEDs involves protecting the sensitive luminescent layer against oxygen and humidity. That's why flexible OLEDs are sealed using a special thin-film process rather than with a glass cover. A flexible steel foil no thicker than a sheet of paper, is used instead of the glass sheet on the back of the OLED.
Siemens' Osram subsidiary has invested roughly €50 million in the development of OLEDs over the last five years. The company presented Orbeos, its first OLED product for this sector, two years ago and launched the world's first pilot production facility in August 2011.
In an effort to rapidly prepare the technology for mass-market success, Osram recently began offering an introductory product known as Orbeos Dance that comes with an electrical ballast and connection accessories.
Source : www.innovations-report.com