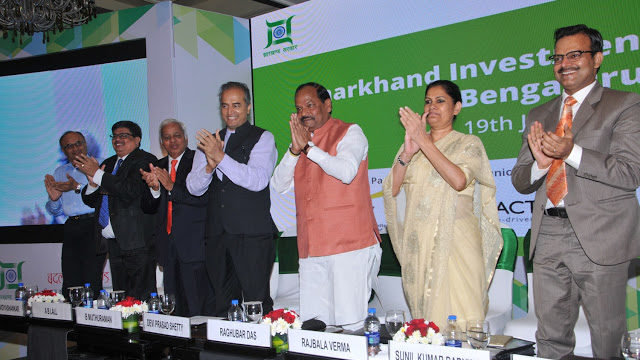 Chief Minister Raghubar Das has said that he was eyeing to make Jharkhand a plastic industry hub, and a separate plastic industry policy was being worked out.
On the occasion of first Central Institute of Plastics Engineering and Technology (CIPET) campus groundbreaking cum inauguration ceremony on Monday, the CM said that the institute would not only cater to skilled manpower requirements of some 80 operational plastic industries in the State at present, but will also produce sufficient skilled labourers for dozens of other such industries waiting to start operations from the soil of Jharkhand.
"Earlier, our students had to go to South India for technical education. But now we are doing everything to stop this trend and provide all types of technical education in the State itself, so that the industrial development we are trying to bring in the State for the development of all could be supported properly," said the CM.
Union Chemicals and Fertilizers Minister and Chief Guest of the occasion Anant Kumar announced three more CIPET in Jharkhand in the first phase soon, in which one in Deoghar will be exclusively for tribal students. Two others will be opened in Jamshedpur and Palamu. Notably, the CM had requested to give five more CIPET to the State.
Department Secretary Anuj Kumar Bishnoi, Union Petrochemicals Department Joint Secretary Aparna Sharma, Urban Development Minister CP Singh, Ranchi MP Ramtahal Choudhary, Chief Secretary Rajbala Verma, Additional Chief Secretary and Development Commissioner Amit Khare, Principal Secretary to the CM Sanjay Kumar, Secretary to the CM and Industries Secretary Sunil Kumar Barnwal, CIPET Director General SK Nayak and Director Ratan Kumar, Industries Director K Ravi Kumar and many other officials were present on the occasion.
"India is a home to only 10 percent skilled workers. Skilling the youth will lead to their employment. Presently, 80 units of plastic are functioning in the state. CIPET students can contribute to these units apart from contributing in other fields. Plastic Park is being established on 169 acre land at Devipur, Deoghar. Pharma Park in Ranchi has already been formally approved by the Centre. 3 acres of land in the premises with shed will be transferred to CIPET for hostel and other thing," added Das.
With this launch, Jharkhand has become the only State where CIPET groundbreaking ceremony coincides with its launch. The institute will commence classes within two months with a capacity of 1,500 students in first year. It has targeted to provide training to 3,000 students in second and 5,000 students in third year. As many as 1,200 students during first year will be provided six months Certificate course at no cost. At the same time, 300 students will be enrolled in a three-year Diploma course in plastics technology at subsidised fee.
Inaugurating CIPET, Anant Kumar said that the sakhi mandal scheme started by Jharkhand govt. is a role model for the other states. He said that other states should follow this. He praised plans like Yojna Banaao, Sakhi Mandal and Panchayat Swyamsevak and said that these were worth replicating programmes in rest of the country. He said that the Union Government had approved Rs. 6,000 crores to start Sindri fertilizer factory with a capacity of 1 lakh metric ton urea production.
"I am overwhelmed to know that the CM wants to make Jharkhand plastic industry hub just the way Bengaluru is popular for IT industry. We were planning to start CIPET in 2018, but the CM wanted it right now. It is also stunning to know that the centre will commence classes within two months. India requires over 10 Lakh plastic engineers against current availability of merely 1.6 Lakhs. I am sure that the vision and speed this government has come up with will surely take the State to another level," added Kumar.
source-:http://www.dailypioneer.com/state-editions/bhopal/seva-yatris-to-be-honoured-at-cm-house-on-may-31.html