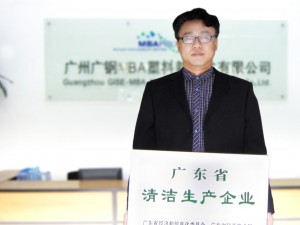 Guangzhou GISE-MBA New Plastics Technology Co., Ltd receives cleaner production certificate from Guangzhou City and Guangdong Province
MBA Polymers production site at Guangzhou, China has received a cleaner production certificate and recognition from Guangdong Province of being the outstanding 'clean plant' in the Province in 2012. MBA Polymers is the leading multinational plastics recycling business which currently operates in the US, UK, Austria and China and sells post-consumer recycled plastics to many different countries around the world.
MBA Polymers plant is located in the Nansha Economic Development Zone District of Guangzhou, southern China's largest city, and is within 45 minutes of most major global manufacturers of consumer electronic and IT equipment. The plant produces high quality post-consumer plastic resins from waste electrical and electronic equipment for reuse in a multitude of new plastics applications.
MBA attaches great importance to cleaner production and voluntarily carried out this cleaner production audit.
In recent years, China has taken a number of initiatives to increase the protection of the environment and combat environmental pollution. Environmental protection is now an integral part of economic policy and is encouraged and monitored through Provincial and City cleaner production initiatives.
The company started the cleaner production audit process in November 2010. After receiving the company's cleaner production audit report, a panel of experts (*1) then investigated the Guangzhou production site and verified performance.
After evaluation, thirty one cleaner production improvements were agreed, twenty five low cost and six high cost schemes. Clear cleaner production goals were established based on careful analysis of their findings. All these improvement schemes have now been fully implemented and the audit completed.
The expert panel commented:
"The company now complies with all national and local laws and regulations and has reached the required level of discharge of pollutants. The company's audit report also meets all the required specifications.
By reconfiguring the energy-saving heater system, improving the waste gas disposal facilities and installing a new waste gas separation system, the company has achieved the required goals on both energy conservation and reduction of emissions. In addition water consumption has been checked and assessed." Overall, the experts agreed that, "MBA had strengthened the management and operation of its pollution control facilities and continually pushed to meet the standards required in the audit."
As a result they agreed to recommend the MBA site as an excellent example of a cleaner production enterprise.