Extremely reliable and highly flexible: With its new suction plates, SPLT series, FIPA GmbH (http://www.fipa.com) makes automated sheet metal handling a lot easier. "FIPA is once again expanding its solutions for sheet metal handling", says Rainer Mehrer, CEO at FIPA.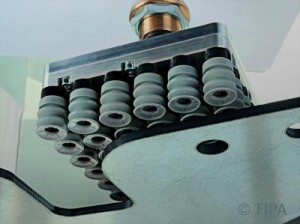 In sheet metal handling an increasing number of laser-cutting systems and punching machines with grippers are using automated loading and unloading systems. The loading process is generally straightforward, as the sheets usually have no perforations. After processing, however, any vacuum cup that attempts to grip at a point with a cut-out will constantly be drawing in air. The high amount of leakage causes the vacuum circuit to break – with serious consequences: The other suction cups in the circuit drop the product.
For this reason, vacuum suction cups on standard suction plates are often positioned to ensure that no suction cup is lowered onto a cut-out following cutting. However, these solutions considerably restrict the flexibility of the sheet metal handling, as each product geometry requires a suitable suction plate.
FIPA suction plates with leakage reduction help here with this. Flow limiters in the suction plate keep the leakage rate to a permissible level. This means that the vacuum remains intact if not all suction cups can grip the sheet equally. The machine can therefore continue to operate reliably.
Flexible suction-cup arrangement and vacuum connection
In the standard design, the vacuum suction cups are designed and arranged on the suction plate as a network of 4×4 or 6×6 bellows suction cups with 2.5 bellows in oil-resistant NBR. Customised designs with other arrangements of suction cups are available on request.
The eccentric and the centric vacuum connection ensure a high level of flexibility at the assembly site. Depending on the mounting position, the piping can be connected at the assembly site either directly to the plate or centrally through the spring leveler.
The combination of the spring leveler and the bellows suction cups ensures the right height adjustment. This means no time needs be wasted on readjusting the machine when working with sheets of different thicknesses.
The new suction plates at a glance:
High process reliability: No breakage of the vacuum circuit in the event of lack of contact with the product

Optimised for sheet metal handling: Perfect for loading/unloading punching and laser-cutting machines

High holding force: 182 N with 16 vacuum suction cups, 409 N with 36 vacuum suction cups

Less readjustment: Automatic height adjustment via spring leveler and bellows suction cups for secure gripping of sheets of different thicknesses

Flexible assembly: Centric or eccentric vacuum connection available at the point of use

Customised designs: Arrangement of suction cups as per customer request